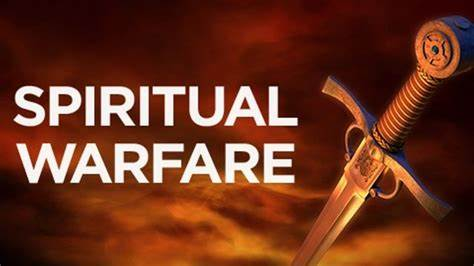 Learn God's Word to prepare for spiritual warfare
Introduction: Deuteronomy Chapter 20 continues a three-part exhortation on matters of life and death. The subject of this chapter is the laws of warfare. Moses set forth the rules of combat for when the Jews invaded the Promised Land. In many cases, the principles behind these rules also apply in modern warfare. These rules also tell us details that will unfold when Jesus the Messiah comes to wage war to retake the Promised Land and establish His peaceful 1,000-year reign. Because Jesus came to fulfill the Law, He will follow the Law when He wages war. The Law also has an important application for believers today. It reveals part of the rules of spiritual warfare. "For our struggle is not against flesh and blood, but against the rulers, against the powers, against the world forces of this darkness, against the spiritual forces of wickedness in the heavenly places." (Eph. 6:12). While the Apostle Paul reveals in Ephesians the armaments used in spiritual warfare, Moses reveals in Deuteronomy the rules for spiritual warfare.
Spiritual warfare lessons revealed in the New Testament. Paul reveals that a believer is to wear "the full armor of God, so that you will be able to stand firm against the schemes of the devil." (Eph. 6:11, 13). The tools of spiritual warfare include seven components: (1) loins girded with truth, (2) the breastplate of righteousness, (3) feet covered "with the preparation of the gospel of peace", (3) the shield of faith, (4) the helmet of salvation, (5) the "sword of the Spirit, which is the word of God," (6) prayer in the Spirit, and (7) petitions to God (Eph. 6:14-18; Heb. 4:12).
Spiritual warfare lessons revealed in the Old Testament. Moses reveals seven principles to follow when fighting a spiritual war. First, you must not be afraid. If you have fear, you lack faith, and God cannot use you in His army. Second, to be part of His army, you cannot expect to fight alone. Thus, you must encourage and restore others to fight with you for God. Third, to win your battles, you must let God fight them for you. If you are trying to fight your battles on your own, you are relying upon your flesh and not the Spirit. In most cases, God will not act if your actions are for your own glory. Fourth, in spiritual warfare, you cannot be unequally yoked with people who do not share your same commitment to God. Thus, you must not pair yourself with people who put the things of the world first. Fifth, war of any kind should only be fought as a last resort. Your goal should always be peace and restoration. Sixth, to be in His army, you must surrender to Jesus and become a slave to righteousness. Finally, you must fight any evil in your life that would destroy your walk with Him. Yet, you must not destroy it unnecessarily. People who were once enemies must be restored wherever possible to bear fruit for God.
1. You Can't Fight in God's Army if You Lack Faith that He Will Protect You. Dt. 20:1.
Don't be afraid of your enemy. Although danger can be real, there is no reason to fear a dangerous enemy when you trust in God: "1 When you go out to battle against your enemies and see horses and chariots and people more numerous than you, do not be afraid of them; for the Lord your God, who brought you up from the land of Egypt, is with you." (Dt. 20:1). Moses began his address in Deuteronomy with a similar exhortation not to fear the strong enemies that they would soon face: "Do not fear or be dismayed.'" (Dt. 1:21). The people had no reason to fear because God had repeatedly kept His promises. He crushed Pharaoh's army before their eyes at the Red Sea. He fed them manna in the wilderness for a year. He also led them by a pillar of light. He also promised to send an angel before them (Ex. 23:23). He also promised to "completely destroy" the tribes that they would soon face, "the Amorites, Hittites, the Perizzites, the Canaanites, the Hivites." (Ex. 23:23). As God once told Abraham: "Is there anything too difficult for the Lord?" (Gen. 18:14). This lesson also applies in modern warfare. Successful armies use psychological warfare to break the will of an enemy. An army that loses its morale will not fight well in battle. Are you afraid of any adversary or obstacle in your path? If you are afraid of anything, how much faith do you have in God?
When you do God's will, you never need to fear evil
Some of God's blessings are conditional upon your faith. Although God can do all things, He may not rescue you from the dangers you face if your faith in Him is lacking. An "unbelieving heart" can cause a person to fall away from Him (Heb. 3:12). He warned Abraham: "Be on your guard before him [God's angel] and obey his voice; do not be rebellious toward him and obey his voice . . But if you obey his voice and do all that I say, then I will be an enemy to your enemies and an adversary to your adversaries." (Ex. 23:21-22; see also Lev. 26:7-8; Nu 10:9, 35; Isa. 54:17). This was therefore a conditional promise. Abraham had to obey and trust God to receive His blessing. The Jews were later barred from entering the Promised Land because of their lack of faith and disobedience (Heb. 3:19; 4:6, 11). God also warned that He would vomit the Jews out of the Promised Land if they did not keep His statutes (Lev. 20:22). Although it may seem impossible for some to imagine. "[you] can do all things through Him who strengthens [you.]" (Phil. 4:13). God did not give you a Spirit of fear (2 Tim. 1:7). Are you willing to trust God even when things do not appear to be going well?

Your eyes can deceive - "Fear" is false evidence appearing real. Moses warned the a person's eyes could deceive when looking at the size of an enemy (Dt. 20:1). The size of the enemy also caused Elisha's servant to be filled with fear. Elisha then prayed to help his servant see the true power of God that projected them: "So he answered, 'Do not fear, for those who are with us are more than those who are with them.' Then Elisha prayed and said, 'O LORD, I pray, open his eyes that he may see.' And the LORD opened the servant's eyes and he saw; and behold, the mountain was full of horses and chariots of fire all around Elisha." (2 Kgs. 6:16-17). Likewise, at the edge of the Promised Land, the size of the Jews' enemies caused 10 of the 12 Jewish spies to feel like grasshoppers (Nu. 13:33). They felt fear because they took their eyes off the Lord and focused on their own strength and abilities. The Lord is the only thing that we are to fear (Prov. 1:7). And the fear of the Lord is defined as "hating evil" (Prov. 8:12). "The fear of man brings a snare. But he who trusts in the Lord will be exalted." (Prov. 29:25). Faith is defined as "the assurance of things hoped for, the conviction of things not seen." (Heb. 11:1) (NASB). If faith is letting God control you, fear is giving the devil the power to control you. Are you only willing to do things for God if you think you have the ability to get the job done based upon your own talents? Or, will you take on projects for God that would be impossible to do alone?
2. Encourage Others to Fight With You in God's Army. Dt. 20:2-3.
An army fights best when it works together. An army cannot exist when people don't work together. There must be trust and cohesion for soldiers to trust each other in battle. Believers also must work together as part of the large body of Christ. To be effective in spiritual warfare, you must not only root out your own fear, you must also help to encourage those around you when they are caught in fear, sin, hopelessness, pain, or doubt: "2 When you are approaching the battle, the priest shall come near and speak to the people. 3 He shall say to them, 'Hear, O Israel, you are approaching the battle against your enemies today. Do not be fainthearted. Do not be afraid, or panic, or tremble before them,'" (Dt. 20:2-3). In modern warfare, soldiers build trust in each other by training together. In spiritual warfare, you are to build up your brothers and sisters through encouragement, mentoring, and discipleship. We see an example of this in how Christ dealt with Peter. At one time, Peter grew weak in his faith when he tried to walk on water. He felt fear when he took his eyes off of Jesus to look at the waves in front of him (Matt. 14:30). He again grew weak in his faith when the people accused him of being a follower of Jesus after His death. He then denied Jesus three times (Matt. 26: 69-75; Mk. 14:66-72; Lk. 22:54-62). Jesus would always encourage Peter after his failures. Joshua and Caleb provide another example of the type of encouragement that believers are all meant to provide. They were God's two witnesses who tried to encourage the fearful people to have faith that they could conquer the giants in the Promised Land (Nu. 14:9). Every believer in Christ is part of His holy priesthood (1 Pet. 2:5, 9). Thus, you also have a similar calling to use God's Words to encourage, restore, or uplift another. "But encourage one another day after day, as long as it is still called 'Today,' so that none of you will be hardened by the deceitfulness of sin." (Heb. 3:13). "Therefore encourage one another and build up one another, just as you also are doing." (1 Thess. 5:11). "Each of us is to please his neighbor for his good, to his edification." (Ro. 15:2). "But one who prophesies speaks to men for edification and exhortation and consolation." (1 Cor. 14:3; Eph. 4:29; Jude 1:20). Are you too busy with your own life to help those around you in need? Do people feel like you are the person to turn to when they need someone to pray for them or listen to their struggles?
You need to encourage others to succeed in spiritual warfare
To succeed in spiritual warfare, a good leader also encourages other leaders. In addition to encouraging the troops, Moses also knew the importance of encouraging his leaders. If they became afraid, those troops under their command would feel fear as well. Thus, Moses also encouraged Joshua to reflect on all that God had done for them: "I commanded Joshua at that time, saying, 'Your eyes have seen all that the Lord your God has done to these two kings.'" (Dt. 3:21). Moses then encouraged him not to be afraid because God would also deliver the Promised Land to him as well: "so the Lord shall do to all the kingdoms into which you are about to cross. Do not fear them, for the Lord your God is the one fighting for you.'" (Dt. 3:22). Are you mentoring and encouraging someone in your life? Are you raising up a leader in God's army?
3. Give God the Glory and Let Him Fight Your Battles. Dt. 20:4.
God may not intervene if you claim the glory of victory. Another important lesson in spiritual warfare is never to boast in your own abilities. God will most likely not intervene if you are seeking the glory for yourself: '"4 for the Lord your God is the one who goes with you, to fight for you against your enemies, to save you.'" (Dt. 20:4). Because the Jews had trouble believing this, God repeated this several times to the Jews: "The LORD will fight for you while you keep silent." (Ex. 14:14). "The LORD your God who goes before you will Himself fight on your behalf, just as He did for you in Egypt before your eyes," (Dt. 1:30). "Do not fear them, for the LORD your God is the one fighting for you." (Dt. 3:22). "One of your men puts to flight a thousand, for the LORD your God is He who fights for you, just as He promised you." (Josh. 23:10). "At whatever place you hear the sound of the trumpet, rally to us there. Our God will fight for us." (Neh. 4:20). This also has an important lesson for modern warfare. Soldiers should be in prayer before any battle for God to ensure that their cause is just and that they will be victorious in battle. When they prevail, they should also give God the credit. The founders of America were pious men who led prayers before going into battle. America faces the prospect of fighting without God as it seeks to remove corporate prayer from the Armed Forces. This lesson also applies in spiritual warfare. To be successful in spiritual warfare, you must root out pride in your life and depend upon God. Do you boast when others congratulate you? Are you doing things to gain the recognition of others around you? If so, you may be fighting your battles alone.
Let God fight your battles
Where God guides, He provides. The Old Testament is filled with examples where God picked a small army to show that any victory was solely the result of His divine intervention. For example, in one battle on the edge of the Promised Land against the Midianites, God told Moses to select only 12,000 soldiers to fight a much larger army (Nu. 31:5). He also did not select Joshua, a proven military hero, to lead the battle (Ex. 17:8-16). Instead, He chose Phinehas, the son of the High Priest Eleazar (Nu. 31:6). Phinehas was ultimately victorious because God was with him. Indeed, not a single Jewish soldier died! (Nu. 31:49). By selecting him, God showed that their battle was also symbolic of our spiritual warfare. As another example, Gideon raised an army of 32,000 men after the Jews had entered the Promised Land (Jdgs. 7:3). Yet, before he could go into battle, God had him reduce his army to only 300 men. Gideon only won the battle because God was with him (Jdgs. 7:7, 22). In your spiritual warfare, your sword is God's Word (Heb 4:12). The kind of sword you carry is related to the amount of knowledge you have in the Word. Thus, are you carrying a sword, a dagger, or a pocket knife? Or, are you completely unarmed in your knowledge of the Word?

Jehoshaphat's prayer. We see another example in how to let God win your battles through Jehoshaphat's prayer. "Jehoshaphat stood in the assembly of Judah and Jerusalem, in the house of the Lord before the new court, 6 and he said, 'O Lord, the God of our fathers, are You not God in the heavens? And are You not ruler over all the kingdoms of the nations? Power and might are in Your hand so that no one can stand against You. 7 Did You not, O our God, drive out the inhabitants of this land before Your people Israel and give it to the descendants of Abraham Your friend forever? 8 They have lived in it, and have built You a sanctuary there for Your name, saying, 9 'Should evil come upon us, the sword, or judgment, or pestilence, or famine, we will stand before this house and before You (for Your name is in this house) and cry to You in our distress, and You will hear and deliver us.' 10 Now behold, the sons of Ammon and Moab and Mount Seir, whom You did not let Israel invade when they came out of the land of Egypt (they turned aside from them and did not destroy them), 11 see how they are rewarding us by coming to drive us out from Your possession which You have given us as an inheritance. 12 O our God, will You not judge them? For we are powerless before this great multitude who are coming against us; nor do we know what to do, but our eyes are on You."' (2 Chr. 20:5-12). To boost your faith, begin your prayer by dwelling on God's power and what He has already done for you. You must also recognize your need for God in humility. Then, ask Him to fight your battle for you.
4. Don't Be Distracted or Unequally Yoked in Battle. Dt. 20:5-9.
Don't let your personal affairs come before God. God required that Moses remove any soldier who might be distracted in his service. A person distracted by personal matters (like building a house) might not be a reliable soldier in battle: "5 The officers also shall speak to the people, saying, 'Who is the man that has built a new house and has not dedicated it? Let him depart and return to his house, otherwise he might die in the battle and another man would dedicate it."' (Dt. 20:5). This lesson also applies in modern warfare. Many modern armies have eliminated the draft because drafted men are less committed to a fight than those who serve voluntarily. A distracted soldier is a danger to every other person in his or her unit. Are you putting any of your personal activities before God? Does God get from you at least one day a week for devotion?

Don't let your business come before God. Another example of a personal distraction from your walk with God is business. A person who was dedicated to starting a new business (in this example planting a vineyard) was not considered reliable: "6 Who is the man that has planted a vineyard and has not begun to use its fruit? Let him depart and return to his house, otherwise he might die in the battle and another man would begin to use its fruit." (Dt. 20:6). Jesus made a claim that a person who wanted to follow Him could not wait to take care of a family business first (Lk. 9:60). Does your business come before your walk with God? Are you lacking faith that He will provide for you?

Don't let your family come before God. Under some circumstances, even family can become a distraction from your walk. God excluded from service someone who was engaged to be married who might be distracted in battle: "7 And who is the man that is engaged to a woman and has not married her? Let him depart and return to his house, otherwise he might die in the battle and another man would marry her.'" (Dt. 20:7). A person who was recently married was also given a one-year exemption from combat (Dt. 24:5). Jesus also warned that devotion to Him could cause division within families (Matt. 10:35; Lk. 12:53). Have you put your family ahead of your walk with God?

Renew your mind daily to remove distractions from God. To avoid distractions, you must be obedient to God to let Him transform you mind each day: "And do not be conformed to this world, but be transformed by the renewing of your mind, so that you may prove what the will of God is, that which is good and acceptable and perfect." (Ro. 12:2). You must also take captive any evil thoughts as they arise. "we are taking every thought captive to the obedience of Christ." (2 Cor. 10:5). You must further guard your mind (Phil. 4:6-7). You must instead dwell upon what is of God. "Finally, brethren, whatever is true, whatever is honorable, whatever is right, whatever is pure, whatever is lovely, whatever is of good repute, if there is any excellence and if anything worthy of praise, dwell on these things." (Phil. 4:8).

Don't be unequally yoked with others while serving God. In addition to keeping your own mind on God, you must be careful not to be unequally yoked. Because fear can spread like a virus, any person who could not be confident in their faith (after counseling and encouragement) was excused from battle: '"8 Then the officers shall speak further to the people and say, 'Who is the man that is afraid and fainthearted? Let him depart and return to his house, so that he might not make his brothers' hearts melt like his heart.'" (Dt. 20:8). At the edge of the Promised Land, Moses' efforts to calm the people failed because the leaders had allowed the fear to spread amongst the people like wildfire. The people cried out "Would that we had died in the land of Egypt! Or that we had died in this wilderness! Why is the Lord bringing us into land to fall by the sword?" (Nu. 14:2(b)-3(a)). They even tried to select a leader to head back to Egypt: "Let us appoint a leader and return to Egypt." (Nu. 14:4). Soldiers with broken morals are also a danger in a modern army. They can bring down the morale of their entire unit. Believers are also warned not to be unequally yoked (2 Cor. 6:14). If you are yoked together with a non-believer in marriage or in work, their lack of faith may also ruin or damage yours.

Like an army, God's Church is meant to be highly structured with clear lines of authority. To keep the people focused on God, the army also had to have leaders with clear lines of authority: "9 When the officers have finished speaking to the people, they shall appoint commanders of armies at the head of the people." (Dt. 20:5-9). In modern armies, every soldier knows his or her place. Each soldier is accountable to a leader. These leaders were in turn accountable to other leaders. This lesson also should be followed in spiritual warfare. In modern mega churches, strict leadership structures rarely exist because churches wish to be seeker friendly in a society that exalts privacy over accountability. People can come on a Sunday. Yet, no one is there to pry into the person's personal affairs. If someone misses a month or several months, no one is there to ask questions. Yet, if a believer is trapped in sin, struggle, or sorrow, they are also on their own. An army cannot function well if the soldiers never fight together with leaders to hold them accountable. God's army is no different. Is there someone over you who is keeping you accountable? Are you watching over someone who is younger in their faith?
5. Fight Only When Peace is Not Possible. Dt. 20:10.
Blessed are the peacemakers. Part of knowing how to fight is knowing when not to fight. Even when you are stronger in your faith or physical strength, you must not intimidate. Thus, Moses taught that war was only to be used as a last resort: "10 When you approach a city to fight against it, you shall offer it terms of peace." (Dt. 20:10). This lesson also applies in modern warfare. War imposes a terrible cost upon society. A government that leads a country into war unnecessarily will lose people, treasure, and the support of its people and its friends. Jesus also taught that the peacemakers would be blessed: "Blessed are the peacemakers, for they shall be called sons of God." (Matt. 5:9). "If possible, so far as it depends on you, be at peace with all men." (Ro. 12:18). "Have salt in yourselves, and be at peace with one another." (Mk. 9:50). Because Jesus has come to fulfill the Law, He also wants everyone to be reconciled with God. To conform to the Law, He will speak peace to those who surrender to Him: "I will cut off the chariot from Ephraim and the horse from Jerusalem; and the bow of war will be cut off. And He will speak peace to the nations; and His dominion will be from sea to sea, and from the River to the ends of the earth." (Zech. 9:10). He gave His life so that all could know this peace. Are you striving to have God's peace and to be at peace with all those around you? Or, do you intimidate others? Do you bring people down through hurtful words, insults, and rumors?
Be a source of Jesus' reconciliation and peace
6. Surrender to Christ and Become a Slave to Righteousness. Dt. 20:11.
The Church is the bride of Christ that He has reclaimed from the devil. If a person surrendered to avoid conflict, the victorious army provided for the captured non-combatants. In Old Testament times, the army provided for the women and children by making them servants: "11 If it agrees to make peace with you and opens to you, then all the people who are found in it shall become your forced labor and shall serve you. 12 However, if it does not make peace with you, but makes war against you, then you shall besiege it. 13 When the Lord your God gives it into your hand, you shall strike all the men in it with the edge of the sword. 14 Only the women and the children and the animals and all that is in the city, all its spoil, you shall take as booty for yourself; and you shall use the spoil of your enemies which the Lord your God has given you. 15 Thus you shall do to all the cities that are very far from you, which are not of the cities of these nations nearby." (Dt. 20:11-15). The women symbolize the Church, which is the bride of Christ (Eph. 5:24-27; 2 Cor. 11:2; Rev. 19:7-9; 21:1-2). The children also symbolize believers who become the adopted children of God the Father (Ro. 8:14-17). If you have voluntarily surrendered to Christ, you should become a slave to His righteousness: "[A]nd having been freed from sin, you became slaves of righteousness." (Ro. 6:18). "But now having been freed from sin and enslaved to God, you derive your benefit, resulting in sanctification, and the outcome, eternal life." (Ro. 6:22). Are you enslaved by the things of the flesh or the things of God?

The coming battle when the Messiah returns. In the midrash, the rabbis taught that verses 10 through 15 were prophetic of the time when the Messiah would come and conquer the lands. Only the wicked who refuse to repent and surrender will ultimately be judged: "He has scattered the people who delight in war." (Ps. 68:30). "And He will strike the earth with the rod of His mouth, and with the breath of His lips He will slay the wicked." (Is. 11:4). "Therefore repent; or else I am coming to you quickly, and I will make war against them with the sword of My mouth." (Rev. 2:16). "From His mouth comes a sharp sword, so that with it He may strike down the nations, and He will rule them with a rod of iron; and He treads the wine press of the fierce wrath of God, the Almighty." (Rev. 19:15). "There was a small city with few men in it and a great king came to it, surrounded it and constructed large siegeworks against it." (Ecc. 9:14-15). For those who surrender, Jesus will turn their swords into plowshares: "And He will judge between the nations, and will render decisions for many peoples; and they will hammer their swords into plowshares and their spears into pruning hooks. Nation will not lift up sword against nation, and never again will they learn war." (Is. 2:4). Are you still striving against Jesus? Or, have you fully surrendered your will to Him?

If you have strived against God, learn from your mistakes. Many believers have to learn the hard consequences of rebellion through God's discipline. His discipline is a sign that He cares for you (Prov. 3:12; Heb. 12:6). If you have experienced discipline, rejoice in the lessons that you have learned: "All discipline for the moment seems not to be joyful, but sorrowful; yet to those who have been trained by it, afterwards it yields the peaceful fruit of righteousness." (Heb. 12:11). Have you learned from your sins? Or, are you returning to your sins like a dog returns to its vomit? (Prov. 26:11).
7. Destroy Only What Is Necessary to Purge Evil From Your Life. Dt. 20:16-20.
God's judgment of the seven unholy nations for their sins. As God's appointed avengers of evil (Rom. 13:4), He called upon the Jews to execute divine judgment upon seven unholy tribal groups, also referred to as nations. Six of them are listed here: "16 Only in the cities of these peoples that the Lord your God is giving you as an inheritance, you shall not leave alive anything that breathes. 17 But you shall utterly destroy them, (1) the Hittite and (2) the Amorite, (3) the Canaanite and (4) the Perizzite, (5) the Hivite and (6) the Jebusite, as the Lord your God has commanded you, 18 so that they may not teach you to do according to all their detestable things which they have done for their gods, so that you would sin against the Lord your God." (Dt. 20:16-18). God previously identified the seventh nation, the "Girgashites." (Dt. 7:1-2). He did not call upon the Jews to destroy every nation that existed within or around the Promised Land. For example, God did not condemn all of the 10 nations that God had offered to Abraham's descendants: "On that day, the Lord made a covenant with Abram and said, 'To your descendants I give this land, from the river of Egypt to the great river, the Euphrates — the land of (1) the Kenites, (2) Kenizzites, (3) Kadmonites, (4) Hittites, (5) Perizzites, (6) Rephaites, (7) Amorites [Syria], (8) Canaanites [Israel], (9) Girgashites and (10) Jebusites.'" (Gen. 15:18-21). These seven nations had merely reached the point where their sins were ripe for God's judgment. When God told Abraham that the Jews would return to the Promised Land after 400 years of captivity, He stated that only one of the nations had neared the point where it would be judged for its sins: "they [the Jews] shall return here, for the iniquity of the Amorites is not yet complete." (Gen. 15:16). Approximately 360 years later, God told Moses that they would "completely destroy" a total of five nations. These included "(1) the Amorites, (2) the Hittites, (3) the Perizzites, (4) the Canaanites, [and] (5) the Hivites." (Ex. 23:23). Approximately 400 years after God spoke to Abraham, when Moses gave his final sermon before the Jews invaded the Promised Land, God added the Jebusite and the Girgashites to the list of nations that He had judged. These verses show that God is slow to bring His judgment because He does not want any to perish: "The Lord is not slow about His promise, as some count slowness, but is patient toward you, not wishing for any to perish but for all to come to repentance." (2 Pet. 3:9). Yet, Western nations look upon their prosperity and blessings and assume that God will not eventually judge their sins. Thus, believers should not accept the widely held belief today that all morality is relative and that the Bible's view of morality should be kept out of public life.

The destruction of the evil nations foreshadows the Day of Judgment. These verses do not provide the right of a group of believers to declare a holy war or crusade against non-believing nations. A person or nation may not be aligned with all of your views. Yet, this does not make them an enemy: "For he who is not against us is for us." (Mk. 9:40). Instead, God sent the Jews to execute His divine vengeance on these nations (Ro. 13:4). We know that this symbolized the day of judgment because God says that vengeance belongs to Him (Heb. 10:30). Moses represented the Law because he gave it. Christ came to fulfill the Law (Matt. 5:17-20). Thus, He will one day judge the nations who have breached the Law. He will also judge the enemies of God (Is. 11:4; 63:1-6; 2 Thess. 1:7-9; Rev. 9:6). "The Lord is at your right hand; He will shatter kings in the day of His wrath. He will judge among the nations, He will fill them with corpses." (Ps. 110:4-7). Whether He uses war, disaster, drought, or economic depression is up to Him. He will judge every nation individually for its sins. A nation may escape judgment for a long time, but judgment will eventually come. Knowing that Jesus will one day come to destroy the unholy nations, what should you be motivated to do? (Matt. 28:19).
Justice requires judgment. Some claim that a loving God would never judge others. God is in fact the source of all love: "He who does not love does not know God, for God is love." (1 Jo. 4:8). Yet, God is also just: "For I, the Lord love justice . .." (Is. 61:8). As a just God, He cannot ignore sin. Those who have trouble accepting this need only ask if they would like to live in a society where murderers, rapists, and robbers are not judged. Anarchy would reign, and people would live in fear. We demand justice because God has put the Law in our hearts (Rom. 2:15). As the source of all justice, God must also judge wrongs.

Before judging others, God judges His own children. Because God is fair, He judges His people before He judges others: "For it is time for judgment to begin with the family of God . . ." (1 Pet. 4:17). When the Jews worshiped the golden calf (their seventh rebellion in the wilderness), God responded by killing 3,000 (Ex. 32:26-28). Yet, the Jews ignored His warning. After the Jews tried to overthrow Moses (their twelfth rebellion), God killed 14,700 (Nu. 16:49). Again, they ignored the warnings. At Shittim, God killed 24,000 (Nu. 25:9). There, the sorcerer Balaam, the Moabite King Balak, and the Midianites formed an unholy trinity against God's people (Nu. 22:4). They sent temple prostitutes to deceive the Jews (Nu. 31:16). The prostitutes told the Jewish men that they could have free sex if only they agreed to eat foods sacrificed to Baal of Peor, the Canaanite fertility god, and worship him. The Jews agreed and violated God's Law (Ex. 20:3-4; 34:14-15; Dt. 23:17; 1 Kgs. 14:22-24). Later, the Jews again disobeyed God by failing to destroy the seven unholy nations that God had told them to judge. They kept many of these people as laborers (Josh. 17:13). This practice continued until as late as Solomon's reign (1 Kgs. 9:20-21). The Jews then adopted many of their pagan practices. God was then forced to judge His own people by sending them into exile. If God was willing to repeatedly judge Israel for its rebellions, should Western nations expect to avoid judgment when they violate God's Law?
Christians will be held to account at the judgment seat of Christ. You are saved by your faith alone and not by your works (Eph. 2:8; Ro. 3:28-30; 4:5; 10:4; Gal. 2:16; 3:24). Yet, you shall one day stand before the judgment seat of Christ to account for your deeds (Ro. 14:10). "We must all appear before the judgment seat of Christ; that every one may receive the things done in his body, according to that he hath done, whether it be good or bad." (2 Cor. 5:10). If you know the truth and do nothing for the Kingdom, your time at the judgment seat of Christ will be uncomfortable. Don't make your time there filled with regrets. Have you made your life a living sacrifice to God? (Rom. 12:1).

The Church must be pure to be an instrument of judgment. God commands us to be holy (Lev. 11:44-7). For we are His salt and light in this world (Matt. 5:13-14). He also uses believers as His instrument of justice, just like He did with the Jews (Ro. 13:4). Our salt should sting in the wound of sin. Yet, we are warned that "if your eye is bad, your whole body will be full of darkness. If then the light that is in you is darkness, how great is the darkness." (Matt. 6:23). Jesus warned the church of Pergamum: "you have there those who hold the doctrine of Balaam, who taught Balak to put a stumbling block before the children of Israel, to eat things sacrificed to idols, and to commit sexual immorality." (Rev. 2:14). Pergamum symbolized the union of the church and the world. Today, the rates of divorce, premarital sex, adultery, drug abuse, and sexual diseases within the church have exploded. Can we be agents of change when our own house is not in order?

God's prohibition against total warfare. Finally, Moses warned that in cutting down trees to lay siege to the enemy forts, the Jews were not allowed to cut down the fruit trees because they would provide for the Jews in the future: "19 When you besiege a city a long time, to make war against it in order to capture it, you shall not destroy its trees by swinging an axe against them; for you may eat from them, and you shall not cut them down. For is the tree of the field a man, that it should be besieged by you? 20 Only the trees which you know are not fruit trees you shall destroy and cut down, that you may construct siegeworks against the city that is making war with you until it falls." (Dt. 20:19-20). The Jews were not to destroy an environment just to take a city. This rule has a modern application today. Modern armies cannot use their technology to destroy an environment with long-term consequences merely to win a short-term war. Germany became militarized after World War I because the allies put such harsh conditions upon them that their economy imploded. Following World War II, the city of Nagasaki Japan lived for decades with the consequences of the first nuclear weapon. Although nuclear weapons have arguably prevented World War III because of their deterrent, their actual use in war is prohibited by these verses. God gave the Earth to mankind and made them stewards over it (Gen. 1:26-31). When humans engage in a just war, they will still sin against God when they wage war against the environment. Are you acting as a good steward of the environment that God has given you?

Only those who bear fruit in Christ will be saved. English translations of verse 19 state "is the tree of the field a man, that it should be besieged by you?" As stated above, this verse can be interpreted to prohibit mankind from wage war against the environment. Yet, the Hebrew is actually translated "man is a tree of the field." How is a man or a woman like a tree? Some people bear fruit, while some do not. When we defeat an enemy, you should never assume that the person cannot change. Some people, like fruit trees, can be pruned to produce great fruit. Following World War II, Germany and Japan transformed themselves to be peace-loving nations that give generously to other nations. Jesus also prunes each branch of a human tree so that it may bear fruit (Jo. 15:2). Jesus is the green tree that you must stay connected to (Lk. 23:31). A tree that does not bear fruit in Christ is cut down and cast into the fire: "If anyone does not abide in Me, he is thrown away as a branch and dries up; and they gather them, and cast them into the fire and they are burned." (Jo. 15:6). "Every tree that does not bear good fruit is cut down and thrown into the fire." (Matt. 7:19). "[A]nd if it bears fruit next year, fine; but if not, cut it down." (Lk. 13:9; Ezek. 20:47-49). How do you ensure that you bear fruit in Jesus? You must put your trust in Him. " Blessed is the man who trusts in the Lord and whose trust is the Lord. "For he will be like a tree planted by the water, that extends its roots by a stream and will not fear when the heat comes; but its leaves will be green, and it will not be anxious in a year of drought nor cease to yield fruit." (Jer. 17:7-8). Are you letting Jesus prune you by submitting to His discipline so that you may grow His fruit? Do you write off people engaged in sin as if they were dead trees? Or, do you see each sinner as a potential fruit tree waiting to be trimmed?