Deuteronomy 26: Lessons for Offering God Your First Fruits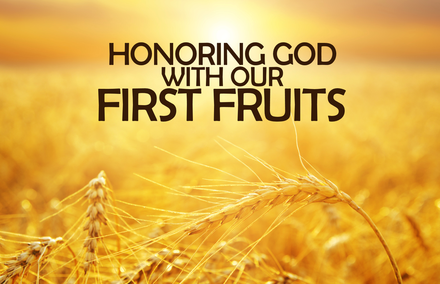 Show God your gratitude for His blessings in your life
Introduction: Chapters 12 through 26 of Deuteronomy describe the specific statutes that govern how to live within the protections of God's covenant of the Ten Commandments. A person or a society who lives within God's covenant can enjoy the full extent of His blessings. They can also avoid the curses that exist when they try to stand alone. Thus, it is fitting that the Law concludes here with the Law regarding thanksgiving, also called the Law of "first fruits." The first fruits were the fruits that first appeared in an agricultural harvest. The thankful believer gave the first fruits of his or her harvest to show his or her thanks to God. It took an act of faith to do this. A change in the weather could make the first harvest the last harvest. A person might have been tempted to store up a season of harvest and only give to God and the poor if there was extra left over. Yet, God wants believers to do just the opposite. He wants people to give to Him first before paying off their expenses or building a surplus and trust Him to give back to them. In this chapter, God gives seven principles for giving thanks to Him that remain applicable today.
First, out of faith and gratitude, give the best of your time, talent, and treasure to Him. Trust Him to provide for all your needs. Second, to be grateful, remember the humble origins that He brought you from. Third, true gratitude also requires that you remember what He has delivered you from. Fourth, if you are inwardly grateful, there should be outward evidence of this through your charity to the less fortunate. Fifth, if you are inwardly grateful, you will also want to be obedient to Him. Sixth, if you love Him with all your heart and soul, tithing will feel like the best possible way to invest your money. Finally, if you are grateful for what He has done for you, you will want to share His great work with you by being a witness to others.
1. Faith – With Gratitude, Give the Best of Your Life and Trust God to Provide. Dt. 26:1-2.
God's principle of the first fruit offering. The first principle of thanksgiving is to trust God in faith by giving Him the best of your time, talent, and treasure, your "first fruits" or "bikkurim": "1 Then it shall be, when you enter the land which the Lord your God gives you as an inheritance, and you possess it and live in it, 2 that you shall take some of the first of all the produce of the ground which you bring in from your land that the Lord your God gives you, and you shall put it in a basket and go to the place where the Lord your God chooses to establish His name." (Dt. 26:1-2; cf. Nu. 15:20). On several different occasions, God commanded the Jews tithe on a regular basis (e.g., Lev. 27:30-33; Nu. 18:26-28; Dt. 12:17; 14:28-29). Based upon Jacob's example, the Jews were expected to tithe 10 percent of their income (Gen. 28:20-22). Some believe that the tithing requirements in this chapter was a special one-time tithing requirement that only applied to the first harvest after the Jews entered the Promised Land (Doug McIntosh, Holman Old Testament Commentary (2002 B & H Publishing Group) p. 300). Yet, this same commandment appears elsewhere in the Torah without any time limitations: "You shall bring the choice first fruits of your soil into the house of the LORD your God." (Ex. 23:19(a); 34:26(a)). At the very beginning of the harvest, a farmer would tie ribbons on the first fruits as they emerged. The marked buds were later given to God when they were ripe. Yet, unlike the requirements for monetary tithes, the Torah did specify the exact amount of produce that the farmer was required to bring with the first fruit harvest (First Fruits of Zion, the Torah Club, Deuteronomy Vol. 1 p. 794; Vol. 2, p. 707). Yet, this left unanswered questions. Did a farmer need to give a tenth of the first fruits to appear or all the fruits that appeared in the beginning? Would the farmer need to mark the fruit that he or she saw during the first day or the first week of the harvest? If the farmer checked every day and only marked the buds observed on the first day, the farmer could minimize the size of his or her tithe. Only God and the farmer would know if the farmer was generous and honest. A farmer would also need to trust God that the first fruits of the harvest would not be the last. Weather, insects, or humans could destroy the crops at any time. Just like the farmer, your giving is an act of trust and faith in Him. He wants you to trust Him that He will pay back your tithes. Jesus commended the woman who gave out of her poverty as opposed to others who gave only out of their surplus (Lk. 21:1-4). Do you trust God to tithe before you pay for your expenses? Or, are you only tithing from your surplus at the end of the month?
Trust God in your tithing
Test God by tithing when times are tough. Normally, believers are not allowed to test God (Matt. 4:7; Dt. 6:16). Yet, tithing is the one area where God encourages us to test Him: '"Bring the whole tithe into the storehouse, so that there may be food in My house, and test Me now in this,' says the LORD of hosts, 'if I will not open for you the windows of heaven and pour out for you a blessing until it overflows.'" (Mal. 3:10). Where you put your money is also a sign of where your heart is (Matt. 6:21). If you seek first God's Kingdom (which includes tithing and giving to the poor), God promises to provide for you (Matt. 6:33). "Honor the Lord from your wealth and from the first of all your produce; so your barns will be filled with plenty and your vats will overflow with new wine." (Prov. 3:9-10). Are you willing to trust God and give to Him when times are tough?

Instead of robbing God, worship Him with proper tithes. Tithing can be an act of worship. The farmer giving his or her first fruits could not give thanks in any manner that the farmer wanted. Instead, the farmer gave his or her first fruits at the place where God had appointed, which at that time was the Temple (Dt. 26:2). At that time, He wanted to make sure that the Jews did not become influenced by the fertility cults that existed around them. Thus, He required that the farmer's worship be properly focused on Him and not the world. Today, there are many people who feel comfortable worshiping God however they want to. Some might go on a boat and look around at nature and think a few words of gratitude toward Him. Others might limit themselves to a quick prayer of thanks on Easter and Christmas. Yet, even though your salvation is not tied to your giving, He expects more from you. When you fail to properly tithe, He states that you are robbing Him: "Will a man rob God? Yet you are robbing Me! But you say, 'How have we robbed You?' In tithes and offerings." (Mal. 3:8). This warning applies to the entire nation: "You are cursed with a curse, for you are robbing Me, the whole nation of you!" (Mal. 3:9). He wants you to "Offer to God a sacrifice of thanksgiving and pay your vows to the Most High;" (Ps. 50:14). If you are grateful for what He has done for you, are you willing to make an actual sacrifice for Him? (Ro. 12:1-2).

Jesus' first fruit harvest of those who were once asleep in the grave. The Bible tells us that the Old Testament festivals all foreshadowed Christ (Col. 2:16-17; Heb. 10:1). This is true of the feast of first fruits. They celebrated that, one week after the Jews fled Egypt (the 17th of Nisan), God saved the Jews at the Red Sea (Ex. 3:18; 5:3, 14). On the 17th of Nisan, God also saved Noah by bringing him to dry land in the mountains of Ararat (Gen. 8:4). On this day, God also saved the Jews by having Haman hung for plotting to have the Jews killed (Esther 3:12; 4:16; 5:4). On this day, the Jews gave the first fruits of their first harvest (the barley harvest) in gratitude. Also on this day, Jesus rose from the grave and became the "first fruits" for those who were once dead: "But now Christ has been raised from the dead, the first fruits of those who are asleep." (1 Cor. 15:20). He then harvested the believers on Earth as the "first fruit" of the dead: "For as in Adam all die, so also in Christ all will be made alive. But each in his own order: Christ is the first fruits, after that those who are Christ's at His coming," (1 Cor. 15:22-23). A second harvest was the Festival of Shavout (the wheat harvest). This corresponded to the day when the Holy Spirit came to dwell with us during Pentecost (Acts 2:1-4). A final harvest occurred during the Feast of Tabernacles (the fruit harvest). It corresponded to the time when Christ dwelt with us and when He will dwell with us again. A faithful farmer would have given the first fruits during each harvest. If you are grateful for your resurrection and the Holy Spirit, how do you plan to show it?

Give the first fruits or best of your life to God to show your gratitude. Money is not the only kind of sacrifice that you can make to God. Some people have little to give. Likewise, for some, giving money involves little sacrifice or is not the only thing that they can offer to serve God's kingdom. Giving the best of your time and talents can be an equally important "first fruit" offerings to God: "Therefore I urge you, brethren, by the mercies of God, to present your bodies a living and holy sacrifice, acceptable to God, which is your spiritual service of worship." (Ro. 12:1). "For you have been bought with a price: therefore glorify God in your body." (1 Cor. 6:20). Are you giving Him the best of your time, talent, and treasure? Are you volunteering to do anything in His army?

Be a joyful giver. It is not enough to give the best of your time, talent, and treasure. God also expects your giving to be done joyfully. "Each one must do just as he has purposed in his heart, not grudgingly or under compulsion, for God loves a cheerful giver." (2 Cor. 9:7). "For if the readiness is present, it is acceptable according to what a person has, not according to what he does not have." (2 Cor. 8:12). "You shall generously give to him, and your heart shall not be grieved when you give to him, because for this thing the LORD your God will bless you in all your work and in all your undertakings." (Dt. 15:10). "Tell the sons of Israel to raise a contribution for Me; from every man whose heart moves him you shall raise My contribution." (Ex. 25:2). "Through Him then, let us continually offer up a sacrifice of praise to God, that is, the fruit of lips that give thanks to His name." (Heb. 13:15). Are you tithing your time, talent, and treasure out of obligation or joy?

Teach your children to offer their first fruits to God. The first fruit commandment also applied to a believer's children: "The firstborn of your sons you shall give to Me." (Ex. 22:29 (b)). "Sanctify to Me every firstborn, the first offspring of every womb among the sons of Israel, both of man and beast; it belongs to Me." (Ex. 13:2). "The first offspring from every womb belongs to Me, and all your male livestock, the first offspring from cattle and sheep." (Ex. 34:19). Your children are a gift from God (Ps. 127:3). Like any other gift from God, you should tithe this gift. You can tithe your children by raising them up in the Lord (Prov. 22:6). Are you teaching your children God's Word? (Dt. 4:9; Eph. 6:4).

Offer your first fruits to sustain those in full-time ministry. The Jews also gave their first fruits as a tithe to support the Levities who were in full-time ministry (Dt. 14:27-29). "Speak to the sons of Israel and say to them, 'When you enter the land which I am going to give to you and reap its harvest, then you shall bring in the sheaf of the first fruits of your harvest to the priest."' (Lev. 23:10). God promised that the priests would receive the best "fresh oil," "fresh wine" and the "first fruits" of the grain and fruit offerings (Nu. 18:12-13). "The first of all the first fruits of every kind and every contribution of every kind, from all your contributions, shall be for the priests; . . ." (Ezek. 44:30; Heb. 7:5-6). Are you supporting missionaries and those who labor full time for the Church? (Mal. 3:8).
2. Humility - Give Thanks Because Your Redemption is Unearned. Dt. 26:3-5.
The descendants of Jacob had no reason to boast for their size and power. The second principle of thanksgiving is humility. To keep God's believers grateful, He instructed that His people meditate on their humble origins: "3 You shall go to the priest who is in office at that time and say to him, 'I declare this day to the Lord my God that I have entered the land which the Lord swore to our fathers to give us.' 4 Then the priest shall take the basket from your hand and set it down before the altar of the Lord your God. 5 You shall answer and say before the Lord your God, 'My father was a wandering Aramean [a Syrian], and he went down to Egypt and sojourned there, few in number; but there he became a great, mighty and populous nation." (Dt. 26:3-5). This pledge reminded the Jews that there was nothing special about them apart from what God did for them. Jacob started his family as a refugee when he fled to his mother's homeland in Aram-Naharaim, in modern day Syria (Gen. 28:2; 25:20). At the time, he was hiding from his brother's wrath for his deceit in stealing his brother's blessings (Gen. 27:41). God wanted His people to remember that He fulfilled His promise to Abraham, Isaac, and Jacob to make the Jews as numerous as the stars in the sky because of Abraham's faith (Ro. 4:13). "And He took him outside and said, 'Now look toward the heavens, and count the stars, if you are able to count them.' And He said to him, 'So shall your descendants be.'" (Gen. 15:5; 12:2; 17:4; 22:17; 26:4; Heb. 6:4; 11:12; Gal. 3:8). Jacob's family left Israel with only 70 people (Gen. 46:8). Yet, because of God's faithfulness, "Israel lived in the land of Egypt, in Goshen, and they acquired property in it and were fruitful and became very numerous." (Gen. 47:27; Ex. 1:7, 12; 5:5; Acts 7:17; 13:17). After approximately 400 years, they had grown to 603,000 fighting men (Nu. 1:46). Remembering God's fulfillment of His promises was something that Moses repeatedly stressed. This was the third time that He repeated the fulfillment of this promise to Abraham in Deuteronomy (See also, Dt. 1:10; 10:22). Like the Jews, God wants you to remember your humble origins. He wants you to share with others where He has brought you from. Out of gratitude, are you sharing your testimony with others?

Like the Jews, you also have no reason to boast in your power, status, or wealth. After coming to know Christ, Paul realized that his accomplishments were worthless before God: "More than that, I count all things to be loss in view of the surpassing value of knowing Christ Jesus my Lord, for whom I have suffered the loss of all things, and count them but rubbish so that I may gain Christ," (Phil. 3:8). Are you prideful about any of your accomplishments? Do you realize that every good thing comes from God? (Jam. 1:7).
3. Deliverance - Give Thanks Because God Has Delivered You from Bondage. Dt. 26:6-9.
God alone freed the Jews from their bondage in Egypt. The third principle of thanksgiving is also focused on keeping your heart grateful by focusing on your deliverance. God had His people do this by meditating on the bondage that He had delivered them from in Egypt: "6 And the Egyptians treated us harshly and afflicted us, and imposed hard labor on us. 7 Then we cried to the Lord, the God of our fathers, and the Lord heard our voice and saw our affliction and our toil and our oppression; 8 and the Lord brought us out of Egypt with a mighty hand and an outstretched arm and with great terror and with signs and wonders; 9 and He has brought us to this place and has given us this land, a land flowing with milk and honey." (Dt. 26:6-9). The Egyptians "appointed taskmasters over them to afflict them with hard labor." (Ex. 1:11). "[T]hey made their lives bitter with hard labor in mortar and bricks and at all kinds of labor in the field, all their labors which they rigorously imposed on them." (Ex. 1:14). Even worse, the "Pharaoh commanded all his people, saying, 'Every son who is born you are to cast into the Nile, and every daughter you are to keep alive.'" (Ex. 1:22; Acts 7:19). Yet, God did not forget His people when they cried out for help: "And the sons of Israel sighed because of the bondage, and they cried out; and their cry for help because of their bondage rose up to God." (Ex. 2:23(b)). Because God is faithful, He said: "I have surely seen the affliction of My people who are in Egypt, and have given heed to their cry because of their taskmasters, for I am aware of their sufferings.'" (Ex. 3:7; 6:5; 1 Sam. 12:8). Thus, He told Moses to tell "the sons of Israel, 'I am the LORD, and I will bring you out from under the burdens of the Egyptians, and I will deliver you from their bondage. I will also redeem you with an outstretched arm and with great judgments."' (Ex. 6:6; Acts 13:17). He was then faithful to His promise to bring the people "to a land flowing with milk and honey . . ." (Ex. 3:8-9; 33:3; Ezek. 20:6). Like the story of their humble origins, Moses repeatedly reminded the Jews of their deliverance through God's mighty arm (Dt. 4:34; 5:15; 6:21; 7:19; 9:29; 11:2). From this example, God also wants you to meditate upon what you have been delivered from (Ps. 136:12). This includes your certain spiritual death. It may also include an addiction, an illness, depression, poverty, or a broken relationship. Are you showing your gratitude by sharing what He has delivered you from?
Show your gratitude for the price Jesus paid for your bondage by serving Him
True gratitude toward Christ does not allow you to use your freedom to return to bondage. If you are grateful for your deliverance, you will not look at it as a license to sin: "What then? Shall we sin because we are not under law but under grace? May it never be!" (Ro. 6:15; Gal. 5:13). Are you using your freedom to return to your former bondage to the flesh?
4. Charity – Give Thanks for Your Provision by Helping the Poor. Dt. 26:10-12.
God's requirement that the Jews show their gratitude by caring for the poor. The fourth principle of thanksgiving is charity. If God has transformed you on the inside, you will want to show your gratitude by sharing with the less fortunate: "10 Now behold, I have brought the first of the produce of the ground which You, O Lord have given me.' And you shall set it down before the Lord your God, and worship before the Lord your God; 11 and you and the Levite and the alien who is among you shall rejoice in all the good which the Lord your God has given you and your household. 12 When you have finished paying all the tithe of your increase in the third year, the year of tithing, then you shall give it to the Levite, to the stranger, to the orphan and to the widow, that they may eat in your towns and be satisfied." (Dt. 26:10-12). This command was not limited to tithing at the Temple. This form of giving was to be done in any place to help those in need. While there was a gift that happened every harvest (Dt. 14:27-29), this was an extra gift given every third year (Dt. 26:12). While giving the gift, the donor made a vow to God that he or she had not withheld any portion of his or her tithe. It is possible that Ananias and Sapphira were struck dead for breaking this Law when they both gave a false vow regarding their tithes (Acts 5:1-11). Today, churches do not typically exhort believers to make an extra gift for the needy every three years. Churches also do not insist upon vows when a person tithes. Yet, one commentator aptly asks: "One wonders how much more generous Christian giving would be if we were asked to make such solemn declarations nowadays." (David Payne, Deuteronomy, the Daily Study Bible Series, (Westminster John Knox Press 1985) p. 144). Are you giving to the poor out of gratitude? Do you make extra donations when you can?

If you love Jesus, show it by helping the poor and the disadvantaged. God created you for His "good works." (Eph. 2:10). This includes compassion and charity for those who are less fortunate: "One who is gracious to a poor man lends to the Lord, and He will repay him for his good deed." (Prov. 19:17; Dt. 15:11; Matt. 5:42). "The King will answer and say to them, 'Truly I say to you, to the extent that you did it to one of these brothers of Mine, even the least of them, you did it to Me."' (Matt. 25:40, 35). Conversely, Jesus warns: '"Truly I say to you, to the extent that you did not do it to one of the least of these, you did not do it to Me."' (Matt. 25:45). "He who oppresses the poor taunts his Maker, but he who is gracious to the needy honors Him." (Prov. 14:31). "But whoever has the world's goods, and sees his brother in need and closes his heart against him, how does the love of God abide in him?" (1 Jo. 3:17). "He who shuts his ear to the cry of the poor will also cry himself and not be answered." (Prov. 21:13). If you are not giving to the poor or your brothers or sisters in Christ who are in need, how much love and gratitude can you say you have for Jesus?
5. Obedience – Show Your Gratitude by Being Obedient to God. Dt. 26:13-15.
The Jews' vow of obedience to God. The fifth principle of thanksgiving is obedience. A person who truly loves God has an inward motivation to obey His Law: "13 You shall say before the Lord your God, 'I have removed the sacred portion from my house, and also have given it to the Levite and the alien, the orphan and the widow, according to all Your commandments which You have commanded me; I have not transgressed or forgotten any of Your commandments. 14 I have not eaten of it while mourning, nor have I removed any of it while I was unclean, nor offered any of it to the dead. I have listened to the voice of the Lord my God; I have done according to all that You have commanded me. 15 Look down from Your holy habitation, from heaven, and bless Your people Israel, and the ground which You have given us, a land flowing with milk and honey, as You swore to our fathers.'" (Dt. 26:13-15). This was the eighth time that Moses stressed the importance of obedience: "You shall walk in all the ways which the LORD your God has commanded you, that you may live and that it may be well with you, and that you may prolong your days in the land which you will possess." (Dt. 5:33; 4:1; 4:40; 5:29; 6:3; 10:12; 12:28). David likewise stressed the importance of obedience: "I am small and despised, yet I do not forget Your precepts." (Ps. 119:141). "The cords of the wicked have encircled me, but I have not forgotten Your law." (Ps. 119:61). Solomon also implored others to be obedient: "My son, do not forget my teaching, but let your heart keep my commandments;" (Prov. 3:1). If you are truly grateful to God, are you openly disobedient toward any of the Ten Commandments?

If you love Jesus, show it through your obedience to Him and His Word. Many Christians correctly point out that Jesus' work on the cross made any further acts of obedience unnecessary to achieve salvation (Gal. 2:21). Obedience is instead a voluntary act that shows that you are sanctified and set apart for Him. Jesus is the great "I AM" who gave Moses the Ten Commandments (Jo. 8:58; Ex. 3:14). He warned: "If you love Me, you will keep My commandments." (Jo. 14:15). "He who has My commandments and keeps them is the one who loves Me; and he who loves Me will be loved by My Father, and I will love him and will disclose Myself to him." (Jo. 14:21). "If anyone loves Me, he will keep My word; and My Father will love him, and We will come to him and make Our abode with him." (Jo. 14:23). "If you keep My commandments, you will abide in My love; just as I have kept My Father's commandments and abide in His love." (Jo. 15:10). "By this we know that we have come to know Him, if we keep His commandments." (1 Jo. 2:3). Can you claim to love Jesus if you are openly disobedient to His Ten Commandments?
6. Love – Give Thanks from Your Heart and Not Through Your Actions. Dt. 26:16-17.
God's request that the Jews act out of their heart and soul while worshiping. The sixth principle of thanksgiving is love. If you are filled with deep-felt gratitude, your love for God will also compel you to be generous: "16 This day the Lord your God commands you to do these statutes and ordinances. You shall therefore be careful to do them with all your heart and with all your soul. 17 You have today declared the Lord to be your God, and that you would walk in His ways and keep His statutes, His commandments and His ordinances, and listen to His voice." (Dt. 26:16-17). This was part of the Shema, the Jews' call to worship: "You shall love the LORD your God with all your heart and with all your soul and with all your might." (Dt. 6:5; 10:12). This is also how you find God: "But from there you will seek the LORD your God, and you will find Him if you search for Him with all your heart and all your soul." (Dt. 4:29). This was also Jesus' greatest commandment: "And He said to him, 'you shall love the LORD your God with all your heart, and with all your soul, and with all your mind."' (Matt. 22:37; Mk. 12:30; Lk. 10:27). If you love Him with all your heart and soul, is there any better place to invest your money than a joyful tithe?
Let your obedience be the fruit of your faith
7. Witness – Give Thanks for Your Blessings by Being a Witness to Others. Dt. 26:18-19.
God lifted up the Jews to make them a light to the nations. The final principle of thanksgiving is to be a witness and a light to others. If you are truly grateful for what Jesus has done for you, you will want to be a light and an example to others: "18 The Lord has today declared you to be His people, a treasured possession, as He promised you, and that you should keep all His commandments; 19 and that He will set you high above all nations which He has made, for praise, fame, and honor; and that you shall be a consecrated people to the Lord your God, as He has spoken." (Dt. 26:18-19). '"[Y]ou shall be to Me a kingdom of priests and a holy nation.' These are the words that you shall speak to the sons of Israel." (Ex. 19:16; 1 Pet. 2:5, 9; Rev. 1:6). Are you showing your gratitude by sharing the Gospel with others? (Matt. 28:16-20).

You are Jesus' light of hope in a dark world. Jesus is the "Light of the world." (Jo. 9:5; 8:12). While He is gone, "You are the light of the world." (Matt. 5:14). To be an example, He implores "that you will prove yourselves to be blameless and innocent, children of God above reproach in the midst of a crooked and perverse generation, among whom you appear as lights in the world," (Phil. 2:15; Prov. 4:18). Are you a light to others by your actions?