Deuteronomy 3: Lessons on Spirit-Led Leadership from the Jews' Defeat of the Amorites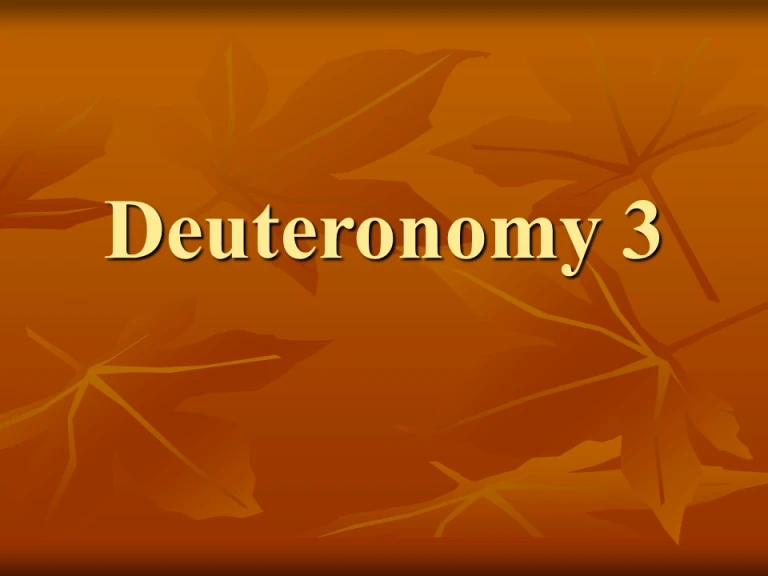 Introduction: Chapter three is the third and final part of Moses' prologue preceding the presentation of the Deuteronomic code. Like the first two chapters, chapter three provides a summary of events described in greater detail in the book of Numbers. Also like the first two chapters, Moses discusses the three themes of faith, God's character, and Spirit-led leadership. The final part of the prologue focuses on lessons in Spirit-led leadership. From the examples of how Moses dealt with fear, governance, and succession, we can learn seven lessons on being a Spirit-led leader. First, a Spirit-led leader must not fear an enemy. Second, a Spirit-led leader praises God to others in victory or in defeat. Third, a Spirit-led leader has the integrity to keep his or her promises. Fourth, a Spirit-led leader promotes unity and a common purpose in the body of Christ. Fifth, a Spirit-led leader inspires and builds up others. Sixth, a Spirit-led leader is held to a higher standard. Finally, guided by the Holy Spirit, a leader for God prepares a successor to one day take over his or her ministry.
1. A Spirit-led Leader Must Not Fear His or Her Enemies. Dt. 3:1-2, 11.
God's command to Moses not to fear King Og. Chapter 3 begins with the second phase of the Jews' battle against the Amorites. The Jews were on the staging plains of western Jordan preparing to invade the Promised Land. In chapter 2, Moses recounted their victory against the first Ammorite King Sinoh. Here, he recounts their victory over the second Ammorite King Og. The Jews could not invade Israel while exposing their rear flank in Jordan to attack from the Amorites. Thus, God first directed them to head north toward the Golan Heights along the road to a place called "Bashan." There, they confronted their remaining Amorite enemy head on. The Ammorite King Og came with all his fighting men to meet the Jews in battle at a place called "Edrei," which means "goodly pasture" (Dt. 3:1; Nu. 21:33). Rather than focusing on the details of the battle, Moses focuses on God's advice to him as a leader. God's only advice was for Moses not to fear King Og because God alone would defeat his armies: "But the Lord said to me, 'Do not fear him, for I have delivered him and all his people and his land into your hand; . . " (Dt. 3:1-2(a); Nu. 21:32-35). Fear spreads if it is not contained. If Moses had feared his enemy, his fear would have spread like the plague across the 12 tribes. What lesson is there here for us? We too have been given circles of influence where we assert authority. If we fear what lies before us, how much trust in God do we inspire in our children or others under our leadership? We are ambassadors for Christ (2 Cor. 5:20). If we are filled with fear, what kind of witness for Christ are we to others?
With faith, we can defeat the giants who stand against us. In verse 11, God revealed that King Og was a giant. His bed was nine cubits long and four cubits wide. "(For only Og king of Bashan was left of the remnant of the Rephaim. Behold, his bedstead was an iron bedstead; it is in Rabbah of the sons of Ammon. Its length was nine cubits and its width four cubits by ordinary cubit.)" (Dt. 3:11). A cubit was the distance from an average person's elbow to the tip of his or her middle finger. This means that his bed was approximately 13'6" long! The Jews previously turned back because they were afraid of the alleged giants in Canaan that stood before them (Nu. 13:32-33). Now, by faith in God's promises, they fought him and defeated him. Matthew Henry notes that "Giants are but worms before God's power." Are there giants in your life that seem impossible to overcome? If so, put the battle in God's hands.
With God's power, the Jews defeated the giant King Og
God has given you a spirit of strength, not fear. God has not given us a spirit of fear in facing the enemy. Instead, He has given us a spirit of strength (2 Tim. 1:7). The only fear that we are commanded to have is of God (Prov. 1:7). And fearing God is defined as hating all things that are evil (Prov. 8:13). Fearing your enemies can cause you to stumble in your walk: "The fear of man brings a snare, but he who trusts in the LORD will be exalted." (Prov. 29:25). "I say to you, My friends, do not be afraid of those who kill the body and after that have no more that they can do." (Lk. 12:4). If we fear men, we may be snared into doing things that are not Christian. We may gossip or slander them to bring people to our side. Or, we may fill our hearts with hate. Some might even resort to violence. Is there anyone that you fear? If so, pray for that person (Matt. 5:44). Let Christ strengthen you to have no fear (1 Pet. 5:10).
2. A Spirit-Led Leader Praises God for His Deliverance. Dt. 3:2(b)-10.
The Jews' destruction of the Amorites. Exactly 400 years earlier, God told Abraham that the sins of the Amorites would be ripe for judgment after the Jews spent 400 years in oppression (Gen. 15:13-16). Exactly 400 years after God gave this prophecy, He instructed Moses to carry out God's judgment on the Amorites: "and you shall do to him just as you did to Sihon king of the Amorites, who lived at Heshbon.'" (Dt. 3:2(b)). Moses was then clear that it was God, not the Jews who were responsible for their victory: "So the Lord our God delivered Og also, king of Bashan, with all his people into our hand, and we smote them until no survivor was left." (Dt. 3:3). In total, the Jews captured 60 fortified cities. "We captured all his cities at that time; there was not a city which we did not take from them: sixty cities, all the region of Argob, the kingdom of Og in Bashan. All these were cities fortified with high walls, gates and bars, besides a great many unwalled towns." (Dt. 3:4-5). In a foreshadowing of the final day of God's judgment, none survived. Sadly, this included "the men, women and children of every city." Only their animals survived. "We utterly destroyed them, as we did to Sihon king of Heshbon, utterly destroying the men, women and children of every city. But all the animals and the spoil of the cities we took as our booty." (Dt. 3:6-7). They also seized the lands of two other Amorites kings beyond Jordan: "Thus we took the land at that time from the hand of the two kings of the Amorites who were beyond the Jordan, from the valley of Arnon to Mount Hermon (Sidonians call Hermon Sirion, and the Amorites call it Senir): all the cities of the plateau and all Gilead and all Bashan, as far as Salecah and Edrei, cities of the kingdom of Og in Bashan." (Dt. 3:8-10). Moses was clear to record that the Jews' victory was the result of God's deliverance and His divine judgment of the Amorites. The Jews were merely the instrument of His judgment. Moses never claimed that the Jews won because of their own ingenuity or superior battle strategy. There is a lesson for us here as well. Many are blessed to succeed at work, school, sports, or in other competitions. When you succeed, do you give the credit to God? The other lesson in this account is that judgment will one day come to the unsaved, just like these Jordanian kings. Are you warning your unsaved friends and family?
With God's power, the Jews defeated the Amorite army
Sing songs of praise to God for your deliverance. The Jews recorded their victories over Kings Sihon and Og in songs of praise to God (Ps. 135:11-12; 136:17-22). Do you listen to and sing praise music to God? Are you routinely late to worship at church?
3. A Spirit-Led Leader Must Have the Integrity to Honor All His Promises. Dt. 3:12-17.
The lands given to the Reubenites, the Gadities, and the half-tribe of Manasseh. After their victory, Moses honored his prior promise to give to the tribes of Reuben and Gad the lands in Jordan that once belonged to King Og. These lands included: "Aroer" in the valley of Arnon, half the hill country of Gilead, and its cities to the river Jabbok. "So we took possession of this land at that time. From Aroer, which is by the valley of Arnon, and half the hill country of Gilead and its cities I gave to the Reubenites and to the Gadites. The rest of Gilead and all Bashan, the kingdom of Og, I gave to the half-tribe of Manasseh, all the region of Argob (concerning all Bashan, it is called the land of Rephaim. Jair the son of Manasseh took all the region of Argob as far as the border of the Geshurites and the Maacathites, and called it, that is, Bashan, after his own name, Havvoth-jair, as it is to this day.) To Machir I gave Gilead. To the Reubenites and to the Gadites I gave from Gilead even as far as the valley of Arnon, the middle of the valley as a border and as far as the river Jabbok, the border of the sons of Ammon;" (Dt. 3:12-16). This land also included: "Arabah" along the Jordan River as a border. It stretched from "Chinnereth" to sea of the "Arabah", the Salt Sea, and the foot of the slopes of "Pisgah" on the east: "the Arabah also, with the Jordan as a border, from Chinnereth even as far as the sea of the Arabah, the Salt Sea, at the foot of the slopes of Pisgah on the east." (Dt. 3:17; Nu. 32:20-23). Moses separately gave to the half-tribes of Manasseh "Gilead," "Bashan," and "Machir" (Dt. 3:13). Moses says nothing here about whether these land grants were a good or bad thing. It might be tempting to assume that God planned on the Jews settling here because He promised 400 years earlier that He would use the tribes to judge the Amorites' sins. Yet, this was not His original plan. How do we know this? We must look back to the full story in the book of Numbers.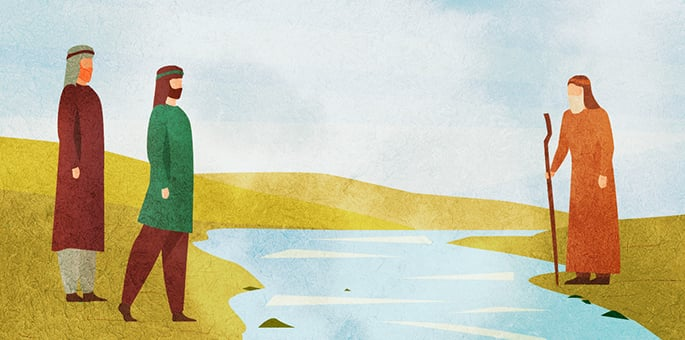 Two and a Half Tribes Reject God's Promised Land (Art by Rivka Korf Studio)
The tribes rejected God's prior allocation of land for them. God previously directed that all the tribes live inside the Promised Land to the west of the Jordan river. Abraham gave the lands to the west to Lot's descendants (Gen. 13:1-18). Before the battles with the Amorites, God directed Moses to divide up the Promised Land into 12 randomly selected lots without regard to merit. "But the land shall be divided by lot. They shall receive their inheritance according to the names of the tribes of their fathers. According to the selection by lot, their inheritance shall be divided between the larger and the smaller groups." (Nu. 26:55-56). Then, to prevent the smaller tribes from having more land per capita, Moses adjusted the map with the final census count to expand the territories of the larger tribes and to shrink the territories of the smaller tribes. "To the larger group you shall increase their inheritance, and to the smaller group you shall diminish their inheritance; each shall be given their inheritance according to those who were numbered of them." (Nu. 26:54). This ensured fairness. Yet, it had another implication. For the tribes that grew in number while in the wilderness due to their Spirit-led obedience, God increased their lands. By contrast, those that shrank in number due to disobedience had their lots reduced in size. Because of their disobedience, the tribes of Reuben and Gad both shrank in number during the 40-year march in the wilderness. By the beginning of the book of numbers, the tribe of Reuben had 46,500 fighting men (Nu. 1:22). Yet, after their four decades of rebellions in the wilderness (including joining in Korah's rebellion (Nu. 16:1-2)), their numbers totaled only 43,730 (Nu. 26:7). This was a decrease of 2,770 men, a 5.95% decline. Likewise, at the beginning of their journey, the fighting men of Gad totaled 45,650 (Nu. 1:25). Yet, at the end of the journey, their numbers dropped to only 40,500 (Nu. 26:18). This was a decrease of 5,150 men, an 11.28% decline. Thanks to God's mercy and grace, these two tribes still had a place in the Promised Land. Our place in the Promised Land is never earned. Our place in the eternal Promised Land is also available solely through Christ's mercy and grace. Yet, God has rewards in heaven for His faithful believers (Matt. 6:1). He likewise rewarded the obedient Jews by slightly reducing the land allotments of the disobedient. This did not sit well with the tribes of Reuben and Gad. Both were children of the flesh. Reuben lost his first born status after sleeping with his mother-in-law (Gen. 33:22; 49:4; 1 Chr. 5:1). Gad was a child born to a maidservant named Zilphah out of Leah's jealousy with Rachel about who would bring Jacob more children (Gen. 35:26). We must always walk by faith and not by the flesh (Gal. 5:16-18). This includes trusting God's calling for you and His promises for you.

Rueben and Gad believed they had a better plan for themselves. After the defeat of the Amorites, the tribes of Reuben and Gad pleaded to keep their new land in Jordan instead of their slightly reduced allotment inside the Promised Land. They reasoned that "is a land for livestock, and your servants have livestock." (Nu. 32:4). They presumed that the land of Jordan was better than the portion of the Promised Land that God gave them for raising livestock. As children of the flesh, they believed that they could live outside the Promised Land where they believed the grass was greener. Yet, this was not God's plan. Solomon warned: "There is a way that seems right to a man. But it ends in the way of death." (Prov. 14:12; 16:25). Jesus also warned: ". . . the way is broad that leads to destruction . . . the way is narrow that leads to life." (Matt. 7:13-14). Are you, like Reuben and Gad, looking for something better than what God has offered you? Are you following your own path instead of His path?

The entanglement of half of Manasseh's tribe in their sins. Moses ultimately agreed to the requests of Reuben and Gad. God cannot force people into the Promised Land if they don't want to be there. Yet, with the final division, we learn of something very sad. Half of the tribe of Manasseh was influenced by these tribes and decided that it would also live outside of the Promised Land (Nu. 32:33, 40-42). "Do not be deceived: 'Bad company corrupts good morals.'" (1 Cor. 15:3). Unlike Rueben and Gad, Manasseh was the most obedient of all the tribes in the wilderness, and it grew the most. By the beginning of their journey, the Manasseh tribe had fighting men totaling 32,200 (Nu. 1:35). By the end of their 38-year-journey, their fighting men totaled 52,700 (Nu. 26:34). This was an astonishing increase of 20,500 men, a 63.66% increase. They received God's blessings because of their Spirit-led obedience in the wilderness. The lesson here is that even the most zealous believers can be enticed and brought down by sinful believers. Half of this tribe gave up God's blessings for a counterfeit promise of a better life outside of the Promised Land. The point of this abbreviated retelling of this story was to show that Moses as a Spirit-led leader kept his promises. He initially argued with the tribes of Reuben and Gad when they first made their request (Nu. 32:9-15). Matthew Henry paraphrases Moses' indignation as follows: "'What!' . . .'shall your brethren go to war, and expose themselves to all the hardships and hazards of the field, and shall you sit here at your ease? Do not deceive yourselves, you shall never be indulged by me in this sloth and cowardice.'" Yet, even though he hated their plan, Moses was a man of integrity. He kept his promises to them. Are you a man or woman of your word? If your children, spouse or friends were asked, would they say that you never go back on your word?

God will hand us over to our desires when we pursue the counterfeit. Joshua later honored the agreement and gave these two and a half tribes their place outside the Promised Land (Josh. 13:15-33). Like Moses, he was a man of integrity. God gives us all free will. If you long for your old life, He will hand you over to the lusts of your flesh (Rom. 1:26). Yet, if you long for your old life, Jesus says that you are not fit for the Kingdom (Lk. 9:62). Sadly, life outside the Promised Land offers only counterfeit pleasures. The grass isn't greener. The devil can only offer illusions that end with pain. This was true as well for these two and a half tribes that picked their own path.

The tribes of Reuben and Gad later became part of the lost tribes of Israel. Hundreds of years later, these tribes were deported into captivity. Yet, unlike the tribes that lived in the Promised Land, the tribes of Reuben and Gad never had a place to return to after their captivity. Because God never promised this land to them, He did not clear it of foreign armies to allow for their return. Moreover, because they never lived in the Promised Land, returning to it had no meaning to them. They became part of the lost tribes of Israel. The tribes of Reuben and Gad most likely formed parts of the Diaspora that still live today in Iraq and Iran. Yet, they have lost their tribal identity. Their fateful decision on the edge of the Promised Land still has consequences today. If you make decisions against God's will, you may suffer a lifetime of hurt and anguish as well. Even worse, your decisions can impact future generations in your family adversely.

Satan attacks those who live away from the herd. Satan acts like a lion (1 Pet. 5:8). Like a lion, he attacks the members of the herd who have strayed from the flock. Thus, we are told not to forsake the fellowship. "not forsaking our own assembling together, as is the habit of some, but encouraging one another; and all the more as you see the day drawing near." (Heb. 10:25). Jesus also warns that He is sending us as "sheep" amongst the wolves. "Behold, I send you out as sheep in the midst of wolves; so be shrewd as serpents and innocent as doves." (Matt. 10:16). We have no natural defenses outside of the flock. By choosing to live outside the Promise Land, Rueben and Gad opened themselves to attacks by foreign armies. If we live outside of the protections of God's word by being disobedient, we also open ourselves to spiritual attack.
4. A Spirit-Led Leader Should Instill Common Purpose in the Body. Dt. 3:18-20.
Moses' command to the two and a half tribes to fight with the other tribes of Israel. Moses gave into the desires of these tribes provided that they stand with the other tribes and aid in the conquest of the Promised Land. "Then I commanded you at that time, saying, 'The Lord your God has given you this land to possess it; all you valiant men shall cross over armed before your brothers, the sons of Israel."' (Dt. 3:18). The women, children, and livestock were allowed to stay. "But your wives and your little ones and your livestock (I know that you have much livestock) shall remain in your cities which I have given you," (Dt. 3:19). Only after the Promised Land had been subdued could the fighting men cross back over the River Jordan. "until the Lord gives rest to your fellow countrymen as to you, and they also possess the land which the Lord your God will give them beyond the Jordan. Then you may return every man to his possession which I have given you." (Dt. 3:20). Unless the tribes worked together, they would fail in their spiritual conquest. To succeed, leaders must ensure that the Church: (1) labors together under Spirit-led authority (1 Sam. 15:22; Nu. 7:1-9); (2) that the leaders act together by submitting to Spirit-led authority in one accord (1 Pet. 2:13; Nu. 7:10-11); (3) everyone tithes (Nu. 7:12-89); (4) that the Church is not motivated by the flesh (2 Cor. 10:3; Nu. 7:13); (5) that the Holy Spirit lead (Jo. 14:17; Nu. 7:13); (6) that the Church seeks God in prayer (Jam. 5:16; Nu. 7:14); and (7) that the Church share in a common belief in Christ's atoning death (Eph. 4:13; Nu. 7:15-23). Imagine the spiritual battles that could be won if the Church today acted with one accord?

Your brothers and sisters need committed believers on the battle lines. In the book of Numbers, Moses complained that the tribes of Rueben and Gad were forcing the rest of the Jews to fight the battle without assistance (Nu. 32:9-15, 33, 40-42). Like Moses, we also might think that the actions of these tribes were selfish. Yet, we must first look at ourselves before we cast stones. Are you actively serving in some capacity for God? Are you funding a missionary, teaching, preaching, exhorting, or praying? Or, are you sitting back while others actively fight for God? There are no spectators in His army.
5. A Good Leader Must Inspire Other Leaders. Dt. 3:21-22.
Moses' exhortation of Joshua. In addition to ensuring that the tribes fought together, Moses made sure to encourage his successor. He first encouraged Joshua to reflect on all that God had done for them: "I commanded Joshua at that time, saying, 'Your eyes have seen all that the Lord your God has done to these two kings; so the Lord shall do to all the kingdoms into which you are about to cross." (Dt. 3:21). Moses then encouraged him not to be afraid because God would also deliver the Promised Land to him as well: "Do not fear them, for the Lord your God is the one fighting for you.'" (Dt. 3:22). Are you mentoring and encouraging someone in your life? Are you raising up a leader in God's army? Or, are you merely looking for someone to help you?
A Spirit-filled leader is brave and a light to others. Joshua had already proven himself to be a man of faith, bravery, and a light to others. He previously led the Jews to defeat the Amalekites in battle on the road out of bondage (Ex. 17:8-13). He and Caleb were also God's two faithful witnesses who tried to encourage the fearful people to have faith that they could conquer the alleged giants in the Promised Land (Nu. 14:9). Because the Jews would not listen, they would spend 38 additional years wandering in the desert (Nu. 14:34; Dt. 2:14). "So we see that they were not able to enter because of unbelief." (Heb. 3:19; Ps. 95:7-11). Only Joshua and Celeb would be allowed to enter because of their faith (Nu. 14:24, 30). We may say that we would do the same as these two. Yet, the people responded to them by trying to stone them (Nu. 13:6-10). Will you bravely share your faith with others, even if you are mocked and ridiculed? (Rom. 1:16). Is your light a beacon of faith to those around you? (Matt. 5:16). If you act out of anger, doubt, fear, frustration, envy, or selfishness, what kind of a light are you?
When you do God's will, you never need to fear evil
A Spirit-filled leader is a shepherd to his people. God also selected Joshua as a successor because, like Jesus, he would be a shepherd. When Moses asked for God to appoint a successor he stated that the people would be like sheep without a shepherd without one: "who will go out and come in before them, and who will lead them out and bring them in, so that the congregation of the LORD will not be like sheep which have no shepherd." (Nu. 27:17). A shepherd cares about each member of the flock. He uses his staff to protect and to discipline those in the flock that stray away (Ps. 23:4). Are you using the staff of God's Word to help your wayward brothers and sisters to return to their walk? Or, are their sins their own private matters?
6. God's Leaders Are Held To A Higher Standard. Dt. 3:23-27.
Moses' rejected plea to enter the Promised Land. Like us, Moses was a sinful man. Although God had told him he could not go into the Promised Land, he still pleaded to be let in: "I also pleaded with the Lord at that time, saying, 'O Lord God, You have begun to show Your servant Your greatness and Your strong hand; for what god is there in heaven or on earth who can do such works and mighty acts as Yours? Let me, I pray, cross over and see the fair land that is beyond the Jordan, that good hill country and Lebanon.'" (Dt. 3:23-25). But God rejected his pleas: "But the Lord was angry with me on your account, and would not listen to me; and the Lord said to me, 'Enough! Speak to Me no more of this matter."' (Dt. 3:26). Yet, God showed His faithfulness to the Jews by allowing Moses to see the Promised Land that He would be giving to the Jews: "Go up to the top of Pisgah and lift up your eyes to the west and north and south and east, and see it with your eyes, for you shall not cross over this Jordan." (Dt. 3:27). We too will not always receive the answers we want to our prayers if they are not part of His plan. God is not Santa Claus. If He does not answer our prayers, we may have prayed amiss (James 4:3). Alternatively, God may have a different plan for our lives than what we have asked for. Or, God may want you to learn patience before He will answer your prayers. Or, God may want to test you (Ps. 66:10). Are you constantly praying, even when your prayers are not answered?
Moses as the law giver was judged by his own standards. God's punishment of Moses may have seemed harsh. But it served a purpose. Because Moses gave the Law he symbolized it. He was the most humble man on the planet (Nu. 12:3). But even the most humble man is still human. For forty years, the Jews provoked him. At the time the Jews complained at Kadesh/Meribah, Moses was still in his seven days of grieving the loss of his sister (Nu. 20:1). The Jews' complaints provoked Moses to anger (Ps. 106:32). Out of wrath, he grumbled that the Jews were "rebels" (Nu. 20:10). Moses had also rebelled against God's instructions. God told him to "speak" to the rock to draw out the water (Nu. 20:8). Instead of listening to this instruction, he followed the instruction from 40 years earlier to hit the rock (Ex. 17:6). Moreover, Moses previously told the Jews that they had sinned against God with their grumbling (Ex. 16:8). By his grumbling and his accusations, he was guilty of breaking the standards that he set. According to Jesus: "in the way you judge, you will be judged; and by your standard of measure, it will be measured to you." (Matt. 7:2). Do you judge others? Are you ready to be judged by the same standard? (Matt. 7:1).
No one can be saved under the Law. Because Moses gave and symbolized the Law, people had the right to expect that he would live by God's standards. Ultimately, he was not able to avoid breaking the Law. He was a sinner like all of us. The lesson is that no one is righteous enough under the law to be saved (Rom. 3:23). If Moses broke just one Law, he was guilty of breaking them all (Jam 2:10). Thus, Moses symbolized our inability to get to heaven by complying with the Law. If we could get to heaven by complying with the Law, Christ died a needless death (Gal. 2:21). Yet, unless we study the Law, we have no idea how much mercy and grace we have received to enter the Promised Land.

Don't cause others below you to stumble. Church leaders are held to higher standards because they are role models for others (1 Tim. 3:3, 8; Tit. 1:7). We are also to watch our behavior to make sure that we do not cause others around us to stumble: "It is good not to eat or to drink wine, or to do anything by which your brother stumbles." (Rom. 14:21; Tit. 2:3). Are your actions in life worthy of a role model?
7. Leaders Must Train Up Successors in the Body. Dt. 2:28.
God's instruction to Moses to prepare Joshua as his successor. Moses concluded with God's command to prepare and encourage Joshua: "But charge Joshua and encourage him and strengthen him, for he shall go across at the head of this people, and he will give them as an inheritance the land which you will see.'" (Dt. 3:28). There, the Jews remained in the valley opposite Beth-peor where they received the Deuteromic code from Moses. "So we remained in the valley opposite Beth-peor." (Dt. 3:29). These instructions also apply to us. We all have circles of influence. Are you raising your children to be Spirit-led leaders? Are you encouraging those around you in their walk? Are you setting the example for others to follow through your study of the Word, your prayers, and how you lead your life?
Joshua lived a life of righteousness. Because he was Spirit-filled, Joshua was righteous before God and unstained by the sins of the world. Joshua patiently waited for Moses at Mount Horeb when others gave up hope of his return. He did not participate in the building or worship of the golden calf (Ex. 32:17). He also patiently waited outside the Tabernacle tent for God to return after He stated that He would not stay because of the people's sins (Ex. 33:11). Part of the definition of true religion is being "unstained by the sins of the world." (Jam. 1:27). Have you, like Joshua, stayed unstained by the sins of this world?
A leader also learns from the example of his teacher. Joshua was righteous because he stayed faithful. He also learned from the example of his teacher Moses. Jesus said: "A pupil is not above his teacher; but everyone, after he has been fully trained, will be like his teacher." (Lk. 6:40). Paul implored others to follow him as he followed the example of Christ. "Be imitators of me, just as I also am of Christ." (1 Cor. 11:1). Are you following someone's example who is following Christ? Are you providing instruction and discipline to someone who is young in the faith to grow in their walk?

God is looking for leaders based on their faith, not their pedigree. Reading about Joshua might make you feel that you could never live up to his standard. Yet, he is the perfect example of a leader who rose from humble origins. God selected Joshua (previously named Hoshea) from the tribe of Ephraim, Joseph's first son (Gen. 41:51; Nu. 13:8, 16). This selection might have been surprising for two reasons. First, the tribe of Ephraim was not technically Jewish because his mother was Egyptian (Gen. 41:50). Second, Ephraim's tribe had sinned in the wilderness. As a result, the fighting men in their tribe shrank from 40,500 men (Nu. 1:33) to 32,500 men (Nu. 26:37), a decrease of 19.75%. Yet, God does not pick people based upon their status in life or based upon the sins of their families. Hoshea, his original name, meant "deliverance." He was the son of Nun, which means "fish." (Nu. 13:8). A fish is also a symbol used for Christ. Moses later renamed him as "Joshua," which means "the Lord is deliverance." (Nu. 13:16). As stated above, Joshua was one of two to have faith when the 10 spies rebelled (Nu. 14:9). His name prefigures Christ. When Joshua was written in Aramaic (the language of Christ), it is translated as "Yehoshua." "Yeshua," the Hebrew name for Christ, is a shortened version of this word. Joshua, like Christ, knew that God would deliver the Promised Land to them (Ps. 18:2; 68:20). Do you judge the advice you receive from people based upon their status or based upon the person's character? Have you written yourself off because of your background?

Any sinner can be a leader in God's army. God's selection of Moses is proof that anyone can be a leader for God. Moses killed an Egyptian (Ex. 2:12). He disobeyed God (Nu. 20:8, 11). He also complained (Nu. 20:10). God, nevertheless, used him to lead His armies. Are your sins any worse? Is there any reason that He cannot use you?

Seven lessons on selecting a Spirit-led leader. If we seek to follow Moses' example, how are we to select a Godly replacement as a leader? First, we must let the Holy Spirit guide us (Jo. 14:16-18; 26). The Holy Spirit, however, might not immediately give us the answer. Sometimes we are called to wait patiently. Selecting a leader must also not be done in haste: "do not lay hands upon anyone too hastily and thereby share responsibility for the sins of others; keep yourself free from sin." (1 Tim. 5:22). Second, a prospective leader must be content (1 Tim. 6:6-9). Third, the leader must be "above reproach, the husband of one wife, temperate, prudent, respectable, hospitable, able to teach." (1 Tim. 3:2). Forth, the leader also must not be "addicted to wine or be pugnacious, but gentle, peaceable, free from the love of money." (1 Tim. 3:3; 6:6-10). He must also manage his own household well (1 Tim. 3:4). Fifth, the leader must also not be a new convert (1 Tim. 3:6). Sixth, the leader must also lead by being a servant to others (1 Tim. 6:2). Finally, you will also know him by his fruits (Matt. 7:16, 20). We are all leaders in God's nation of priests (1 Pet. 2:5). Meditate on this list of leadership attributes and ask God to show you where to improve.

Submit to God's appointed leaders. The people did not have a choice in submitting to Joshua as Moses' appointed successor (1 Pet. 2:13). God likewise commands that we submit to His appointed leaders. First, we submit to God through his Holy Spirit (Rom. 8:14), His Word (2 Tim. 3:16), and His church leadership (Matt. 18:17-20; Heb. 13:17). Second, we submit to our civil authorities (1 Pet. 2:13-14; Rom. 13:1-2). Third, we submit to God's family order (Eph. 5:22-25; 6:10). Only when our authorities refuse to follow God's law can we ignore them (Acts. 4:19). Satan's goal has always been to break down authority through rebellion. His goal is to create chaos and misery. Satan's first rebellion led a third of the angels in rebellion against God's rule (Rev. 12:3-9). He then led Eve to rebel against God's rules (Gen. 3:1-4). He then led Adam and Eve to rebel against each other (Gen 3:16). All of Satan's 12 rebellions in the wilderness sought to depose Moses as the leader of the Jews. Jesus once quoted a prophecy: "I will strike down the shepherd, and the sheep shall be scattered." (Mk. 14:23). Are you submitting to your leaders? Or, do you gossip and murmur about them?