Deuteronomy 34: Final Lessons from the Book of Deuteronomy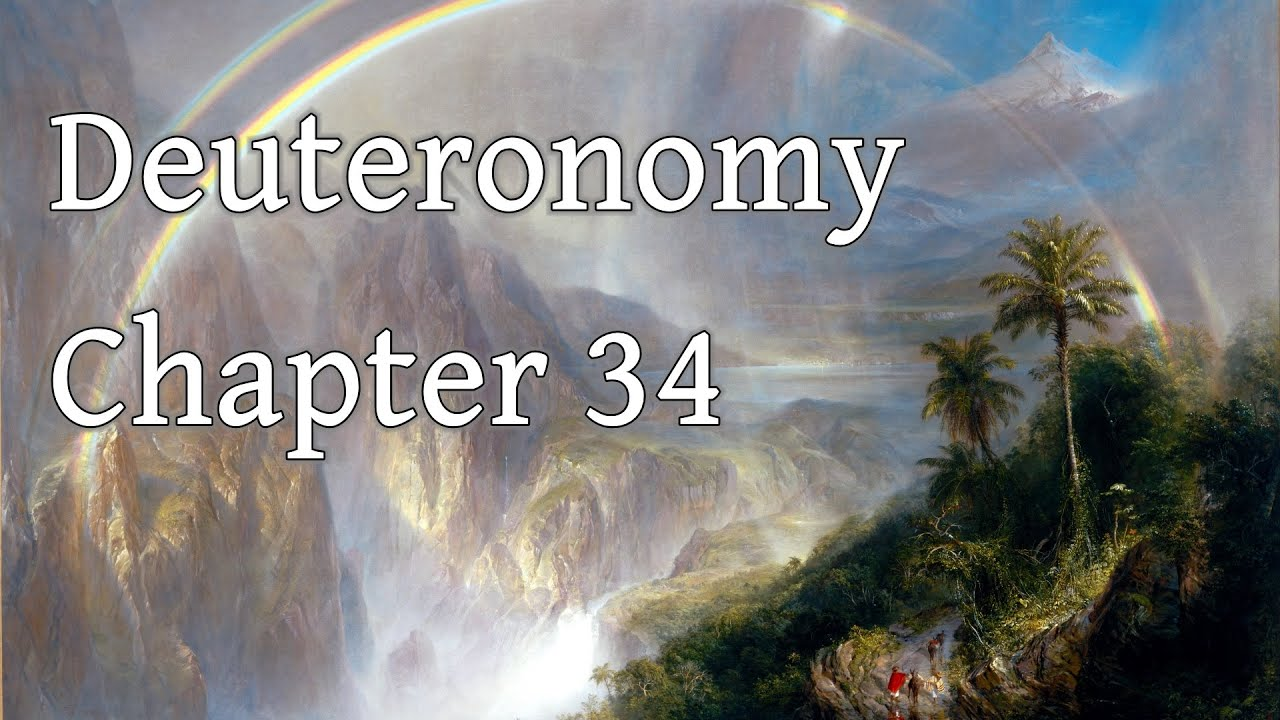 Introduction: The final Chapter of Deuteronomy records Moses' death. By Jewish tradition, Joshua is believed to have penned the final words of this book. This postscript to Moses' final address to the Jews on the edge of the Promised Land uses symbolism to summarize many of the themes of Deuteronomy. The final chapter concludes with six lessons about life under the Law. A final lesson comes from the allusions to a future New Covenant between God and His people.
First, from God's final statements in showing the Promised Land to Moses, God demonstrated that He is faithful to keep His promises. While the world can at times seem hopeless, believers can always have faith in God's Promises. Second, from Moses' death outside the Promised Land, God symbolically showed that the Law by itself won't bring you to the eternal Promised Land. Third, from the symbolism behind Moses' hidden grave site, God shows that He wants you to hide His Law in your heart. Fourth, from Moses' good health up until his death at age 120, God also shows that obedience to the Law can bring the blessings of a prolonged and healthy life. Fifth, from God's instructions to the people to follow Joshua, He instructs that believers should listen to and obey His appointed leaders. Sixth, from Joshua's statement that Moses was unique amongst the human prophets in knowing God "face to face", God instructs believers to listen to and obey the Law given through Moses. Finally, God previously promised that He would raise a future leader like Moses who would know God "face to face." This was a foreshadow of Christ. Christ was God incarnate who allows all to know God "face to face." Jesus called upon His believers to show their love for Him by obeying His Commandments.
1. God is Faithful to Keep His Promises. Dt. 34:1-4.
God reaffirmed His land promise to the Jews. Just before Moses' death, God showed that He was faithful to keep His promises by showing Moses all of the land that He would give to the Jews: "1 Now Moses went up from the plains of Moab to Mount Nebo, to the top of Pisgah, which is opposite Jericho. And the Lord showed him all the land, Gilead as far as Dan, 2 and all Naphtali and the land of Ephraim and Manasseh, and all the land of Judah as far as the western sea, 3 and the Negev and the plain in the valley of Jericho, the city of palm trees, as far as Zoar. 4 Then the Lord said to him, 'This is the land which I swore to Abraham, Isaac, and Jacob, saying, 'I will give it to your descendants; I have let you see it with your eyes, but you shall not go over there.'" (Dt. 34:1-4). God's promise was a reaffirmation of the land promise that He had previously made to Moses: "Every place on which the sole of your foot treads shall be yours; your border will be from the wilderness to Lebanon, and from the river, the river Euphrates, as far as the western sea." (Dt. 11:24; 1:8; 15:18; Ex. 23:31). God's promises to Moses were also a reaffirmation of the promise that He had made to Abraham: "The LORD said to Abram, after Lot had separated from him, 'Now lift up your eyes and look from the place where you are, northward and southward and eastward and westward; for all the land which you see, I will give it to you and to your descendants forever."' (Gen. 13:14-15). God also made this promise to Jacob (Gen. 28:13). He later fulfilled this promise through Joshua: "So the LORD gave Israel all the land which He had sworn to give to their fathers, and they possessed it and lived in it." (Josh. 21:43). The message that every believer should draw is clear and simple – God is faithful to keep His promises. While He promised the Jews a physical Promised Land, He promises every believer in Christ an eternal Promised Land through Christ (Jo. 3:16).

To have faith in God's promises, you must know them. Most believers know God's promises of eternal life and the Holy Spirit. Yet, the Bible contains many other promises. In the book of Deuteronomy God lists 10 conditional blessings for a nation and for individuals when their faith leads to obedience (Dt. 28:1-14). These blessings are unrelated to God's promise of eternal life through Jesus Christ. Yet, if you don't know God's other promises, how much faith can you have in them?
2. The Law By Itself Won't Bring You to the Eternal Promised Land. Dt. 34:4(b).
Moses was barred from the Promised Land because he could not keep the Law. From Moses' inability to enter the Promised Land, we learn the one limit to obedience to the Law. Just as Moses could not enter into the physical Promised Land by trying to follow the Law, no believer can gain entry into the eternal Promised Land by trying to follow the Law: "I have let you see it with your eyes, but you shall not go over there." (Dt. 34:4(b)). This repeated God's judgment that He gave before Moses ascended up Mount Nebo: "For you shall see the land at a distance, but you shall not go there, into the land which I am giving the sons of Israel." (Dt. 32:52). Because Moses gave the Law, he symbolized it. The people therefore had the right to expect that he would live by the standards that he preached. Yet, like everyone else, he was not able to avoid breaking the Law. At one point toward the end of the 40-year-journey in the wilderness, he broke God's directive to "speak" to a rock to draw out the water (Nu. 20:8). Instead, out of anger toward the Jews, he "hit" the rock (Ex. 17:6). God repeats this judgment three times between Chapters 32 and 34. The lesson is that no one is righteous enough under the Law to enter into the eternal Promised Land (Rom. 3:23). By faith alone, you are saved (Jo. 3:16; Acts 16:31; Eph. 2:8). While there are blessings from following the Law while you are alive, believers must carefully avoid those who preach a works-based salvation. Every believer has sins that are worse than Moses' sins. Will you praise God for your undeserved gift of eternal life?

The eternal Promised Land is also within our sight. In commenting on these verses, Matthew Henry observed that we have been privileged like Moses to see the hope of the Promised Land before us: "Such a sight believers now have, through grace, of the bliss and glory of their future state. Sometimes God reserves the brightest discoveries of his grace to his people to support their dying moments. Those may leave this world with cheerfulness, who died in the faith of Christ, and in the hope of heaven." (Matthew Henry on Dt. 34:1-4). The promise of what believers can see through God's Word should give every believer hope: "so that being justified by His grace we would be made heirs according to the hope of eternal life." (Tit. 3:7). "For in hope we have been saved, but hope that is seen is not hope; for who hopes for what he already sees?" (Ro. 8:24). Is your hope in the world to come? Or, are you only hoping for the physical things that you can see around you?
3. Hide God's Law in Your Heart. Dt. 34:5-6.
Moses' hidden grave site. Although Moses died on top of Mount Nebo and was buried in the plains of modern day Jordan, God hid the tomb of Moses from His people: "5 So Moses the servant of the Lord died there in the land of Moab, according to the word of the Lord. 6 And He buried him in the valley in the land of Moab, opposite Beth-peor; but no man knows his burial place to this day." (Dt. 34:5-6). The New Testament reveals that the devil fought with the archangel Michael over Moses' body: "But Michael the archangel, when he disputed with the devil and argued about the body of Moses, did not dare pronounce against him a railing judgment, but said, 'The Lord rebuke you!'" (Jude 1:9). Why would the devil want to claim Moses' hidden body? God knew that people would create a shrine and an idol out of Moses. Neither the Law nor the human instruments of God's Word should be worshiped. Neither can get you into heaven. Yet, the Law is still relevant. Moses was a symbol of the Law. Just as Moses was hidden from the devil, believers must also keep the Law hidden within their hearts to protect themselves from the evil one. The Holy Spirit will help you to remember the Word that lies within you to protect you from temptation: "But the Helper, the Holy Spirit, whom the Father will send in My name, He will teach you all things, and bring to your remembrance all that I said to you." (Jo. 14:26). Yet, in order for the Holy Spirit to remind you of God's Word, you must put it in your heart by memorizing important verses: "Your word I have treasured in my heart, that I may not sin against You." (Ps. 119:11). "I delight to do Your will, O my God; Your Law is within my heart." (Ps. 40:8). "The law of his God is in his heart; his steps do not slip." (Ps. 37:31). If you have not memorized many verses, what will the Holy Spirit use to remind you of God's Word?
Moses' body was hidden
4. Faith-led Obedience to the Law Can Bring Certain Conditional Blessings. Dt. 34:7-8.
Moses' blessing of both a prolonged and healthy life. Although the Law cannot bring salvation, faith-led obedience to God's Law can bring other types of blessings. Because of his obedience, Moses lived until he was 120 with the eyesight and stamina of a younger man: "7 Although Moses was one hundred and twenty years old when he died, his eye was not dim, nor his vigor abated. 8 So the sons of Israel wept for Moses in the plains of Moab thirty days; then the days of weeping and mourning for Moses came to an end." (Dt. 34:7-8). Moses in fact died on his 120th birthday. God revealed that Moses had just turned 120 three chapters earlier (Dt. 31:2). Living 120 years was symbolic of a full life (Gen. 6:3). Through Moses, God had repeatedly promised that obedience to the Law would bring a "prolonged life" on Earth: '"Take to your heart all the words with which I am warning you today, which you shall command your sons to observe carefully, even all the words of this law. 47 For it is not an idle word for you; indeed it is your life. And by this word you will prolong your days in the land, . .. ." (Dt. 32:46-47). "Walk in all the way that the Lord your God has commanded you, so that you may live and prosper and prolong your days in the land that you will possess." (Dt. 5:32-33). "So you shall keep His statutes and His commandments which I am giving you today, that it may go well with you and with your children after you, and that you may live long on the land which the LORD your God is giving you for all time." (Dt. 4:40; 6:1-2; 12:28; 22:6-7; 25:13-16; Lev. 18:5). Among other parts of the Law, God specifically promises a "prolonged" life for those who follow the Fifth Commandment by honoring their parents (Ex. 20:12; Dt. 5:16; Eph. 6:2-3). He is not promising that you will live to be old if you follow the Law. He is instead promising to prolong the length of time you would normally have on Earth. Through Moses' example, God also reveals that He is not promising a prolonged life in a vegetative state. He is instead promising youthful vigor in your prolonged life. Yet, He may not reward your obedience if it is done for selfish reasons. Moses used his prolonged life to serve God. As a result, God blessed him. Many Christians may struggle with this promise because their churches largely ignore these teachings in the Old Testament. If you doubt God's promise of a prolonged life, should you expect God to grant it? (Jam. 1:6-7).
5. Listen to and Obey God's Appointed Leaders. Dt. 34:9.
A leader led by God's Spirit can accomplish anything. Joshua reveals that he had been given the Spirit of wisdom when Moses laid hands on him: "9 Now Joshua the son of Nun was filled with the spirit of wisdom, for Moses had laid his hands on him; and the sons of Israel listened to him and did as the Lord had commanded Moses." (Dt. 34:9). Moses commissioned Joshua with the strength of faith to carry out God's will in bringing the people to the Promised Land: "Then He commissioned Joshua the son of Nun, and said, 'Be strong and courageous, for you shall bring the sons of Israel into the land which I swore to them, and I will be with you.'" (Dt. 31:23). Joshua's name means "the Lord is deliverance." (Nu. 13:16). True to his name, God used Joshua to deliver the Promised Land to the Jews. When a leader is led by the Spirit, no goal is out of reach: "I can do all things through Him who strengthens me." (Phil. 4:13). If you are only doing things for God that appear within what you think you are capable of doing, how much faith in God are you showing? If you are only doing things for yourself, are you letting the Spirit lead you?

Submit to God's appointed leaders. Joshua also notes that the people: "listened to him and did as the Lord had commanded Moses." (Dt. 34:9(b)). God likewise commands that we submit to His appointed leaders (1 Pet. 2:13). Only when our authorities refuse to follow God's Word can we ignore them (Acts. 4:19). Jesus once warned that when a leader is struck down: "the sheep shall be scattered." (Mk. 14:23(b)). Are you submitting to your leaders? Are you also praying for God to give them guidance as they lead?
6. Listen and Obey God's Words Given Through His Prophet Moses. Dt. 34:10-12.
Moses was unique amongst God's prophets. Joshua reveals that Moses was unique amongst God's prophets not only because of the wonders that God performed through him, but also because he was the only one to speak to God "face to face"; "10 Since that time no prophet has risen in Israel like Moses, whom the Lord knew face to face, 11 for all the signs and wonders which the Lord sent him to perform in the land of Egypt against Pharaoh, all his servants, and all his land, 12 and for all the mighty power and for all the great terror which Moses performed in the sight of all Israel." (Dt. 34:10-12). Although God used many other human prophets, He spoke to them through dreams or visions. God previously observed: '"Hear now My words: If there is a prophet among you, I, the Lord, shall make Myself known to him in a vision. I shall speak with him in a dream. 7 "Not so, with My servant Moses, He is faithful in all My household;" (Nu. 12:6-7). Moses was unique in that he spoke with God "face to face." (Dt. 34:10; Ex. 33:11). Joshua's point was not to exalt Moses to God's level. His point was instead to make sure that believers treat the Law that Moses gave with the highest level of respect. Even after Jesus' death, the apostles had no problem finding the Torah important for instruction, rebuke, and the training of a person in God's righteousness: "All Scripture is inspired by God and profitable for teaching, for reproof, for correction, for training in righteousness;" (2 Tim. 3:16). Before the New Testament was drafted and in reference to the Old Testament, believers were encouraged to continue with the public reading of the Old Testament: "Until I come, give attention to the public reading of Scripture, to exhortation and teaching." (1 Tim. 4:13). Today, most churches rarely preach from the Law found within the Torah. Are you studying the Torah in the same way that you study the New Testament? If your pastor or priest has largely ignored the teachings of the Torah, are you encouraging that person to teach from those books?
Luca Signorelli (1450-1523) "Last Acts and Death of Moses"
What will your epitaph say? Moses was honored for 30 days because he was a godly man (Dt. 34:8). Stephen was also mourned for the same reason (Acts 8:2). Although you are saved by faith, will people one day remember you for your Godly faith and lifestyle?
7. Listen and Obey Jesus' Ten Commandments.
God's promise to raise up a prophet like Moses from within the Jews. Joshua ended the book of Deuteronomy with a tribute to what made Moses unique amongst God's prophets. Some Jews have pointed to Joshua's words to suggest that there will never be a prophet as great as Moses. Thus, they reject claims that Jesus was God or that He knew God "face to face." Yet, through Moses, God expressly promised to raise another prophet who would know God face-to-face:  "15 The Lord your God will raise up for you a prophet like me from among you, from your countrymen, you shall listen to him. 16 This is according to all that you asked of the Lord your God in Horeb on the day of the assembly, saying, 'Let me not hear again the voice of the Lord my God, let me not see this great fire anymore, or I will die.' 17 The Lord said to me, 'They have spoken well. 18 I will raise up a prophet from among their countrymen like you, and I will put My words in his mouth, and he shall speak to them all that I command him. 19 It shall come about that whoever will not listen to My words which he shall speak in My name, I Myself will require it of him." (Dt. 18:15-19). To be this predicted prophet, the person would need: (1) to come from amongst the Jewish people, (2) He had to be like Moses having known God "face to face," (3) H would also have God's Word in His mouth, and (4) God would require that we obey His words. When John the Baptist arrived, the Levities from Jerusalem asked him, '"What then? Are you Elijah?' And he said, 'I am not.' 'Are you the Prophet?'" John again answered "no." (Jo. 1:21). The Levities asked this question because they were looking for "the Prophet" that Moses promised. Many Jews also came to see Jesus as "the Prophet" that Moses promised while He was alive: "Therefore when the people saw the sign which He had performed, they said, "This is truly the Prophet who is to come into the world." (Jo. 6:14). "And the crowds were saying, 'This is the prophet Jesus, from Nazareth in Galilee.'" (Matt. 21:11; see also, Jo. 4:19; Lk. 7:16; 24:19; 7:16). After Jesus' death, Peter directly connected Moses' prophesy to Jesus (Acts. 3:22; 7:37). Jesus, however, was much more than just a mere prophet. He is the prophet of the Highest (Lk. 1:76). He is the Son of Man (Matt. 8:20). He is also "Kurios" or "Lord" (Jo. 13:13; 20:28; Acts 2:36; Rom. 10:9; Phil. 2:11). He is the "Lord of All." (Acts. 10:36). He is the King of Glory (1 Tim. 1:17). He is also the King Eternal (1 Tim. 1:17). He is the Creator (1 Pet. 4:19). He is the image of God (2 Cor. 4:4; Heb. 1:3). He is the only begotten son (Jo. 1:18). He is the "highest." (Lk. 1:76). He is the image of God (2 Cor. 4:4; Heb. 1:3). He is also the gift of God (Jo. 4:10). He is also the prophetic "Word" of God that became flesh (Jo. 1:1, 14; Rev. 19:13). Like Moses, Jesus commanded that believers obey His Commandments: "If you love Me, you will keep My commandments." (Jo. 14:15, 21; 15:10). The "Commandments" that Jesus was referring to were the Ten Commandments, His First Covenant. He was the great "I AM" who gave these commandments to Moses (Jo. 8:58; Ex. 3:14). If you accept Jesus as both the Prophet and your Lord and Savior, are you showing your love for Him by obeying His Ten Commandments out of devotion, not obligation?