Introduction: Chapter 13 is one of three stories about Abraham and his nephew Lot. In this account, Abraham rescued his nephew (who walked by sight) from conflict caused by covetousness. The second story appears in chapter 14 when Abraham intervened to save Lot from conflict caused by living in the world outside of God's protections (Gen. 14:1-24). In the third account, Abraham petitioned God to rescue Lot and his family from the judgment of Sodom when he returned to live in the world (Gen. 18:16-19:38). Although they were family members, Abraham and Lot, at times, struggled in their relationship. Like Abraham, the future patriarchs also struggled with their siblings. After Abraham, both his sons and the descendants of Isaac and Ishmael struggled to get along. After them, his grandsons and the descendants of Jacob and Esau struggled. After them, his great-grandchildren and the twelve tribes who descended through Jacob struggled. In each of these struggles, at least one person allowed his flesh to guide his decisions while the other either walked in faith or received God's undeserved mercy and grace.
Chapter 13 is mostly about a conflict over land that arose between the herdsman of Abraham and Lot and their agreement to divide the land to resolve their disputes. Yet, the 13 verses in this chapter contain seven lessons for all believers about walking in faith and not by sight.
First, as a man of faith, God blessed Abraham. Although He may not bless you financially the way He blessed Abraham, God will still richly reward you spiritually when you walk in faith with Him. Second, after being delivered from the consequences of his own lack of faith by leaving for Egypt and lying to Pharaoh, Abraham built an altar and gave thanks. This would have also included his repentance for his prior actions. From this, God reveals that a person who walks in faith gives thanks for his or her deliverance and repents of his or her sins. Third, when conflict arose between Abraham and Lot's herdsmen, Abraham did not send his nephew away. Instead, he tried to avoid conflict by allowing his younger nephew first choice in dividing the land between them. From this, God reveals that a person is walking in faith when he or she submits to others. Fourth, without praying, Lot chose the lands of the Jordan because he was consumed with his wealth and the lands of the Jordan were pleasing to his eyes. Lot then gravitated toward the evils of that area by making Sodom his home. From this, God reveals that a person walking in faith does not make decisions based upon either the lusts of the eyes or covetousness. Fifth, to reward Abraham's faith, God promised him the lands of Israel and other territories that today are referred to as the "Promised Land." From this, God reveals that He will reward those who believe in faith in Jesus an eternal "promised land" in heaven. Sixth, after Abraham would have felt unworthy, God reconfirmed His promise that countless descendants would come through him. From this promise, God reveals that you too share in Abraham's blessings. Through Christ, you become both an heir of Abraham and an adopted son of God. Finally, Abraham built another altar and walked in fellowship with God as he explored all of God's gifts in the Promised Land. From this, God reveals that He wants your life to be a living sacrifice of fellowship. This includes using His spiritual gifts for His Kingdom.
1. A Faithful Believer Receives God's Blessings. Gen. 13:1-2.
God's blessing of riches to Abraham. In addition to saving Abraham from his own lies about his wife and Pharaoh's retribution, God blessed Abraham with undeserved riches: "1 So Abram went up from Egypt to the Negev, he and his wife and all that belonged to him, and Lot with him. 2 Now Abram was very rich in livestock, in silver and in gold." (Gen. 13:1-2). Influenced by the Holy Spirit, Pharaoh gave these riches to Abraham: "Therefore he treated Abram well for her sake; and gave him sheep and oxen and donkeys and male and female servants and female donkeys and camels." (Gen. 12:16). Throughout his entire life, God continued to bless Abraham: "Now Abraham was old, advanced in age; and the LORD had blessed Abraham in every way." (Gen. 24:1). Although God does not promise to bless every believer in the same way, a person who walks in faith will receive His blessings.
God greatly blessed Abraham
God can sometimes bless believers with wealth. Wealth is not by itself a sin. It is only a sin when the love of money leads to coveting (1 Tim. 6:10). Solomon only asked God for wisdom. Because he sought God's wisdom first, God gave him riches that he did not ask for: "I have also given you what you have not asked, both riches and honor, so that there will not be any among the kings like you all your days." (1 Kgs. 3:13). "The LORD highly exalted Solomon in the sight of all Israel, and bestowed on him royal majesty which had not been on any king before him in Israel." (1 Chr. 29:25). If money alone were sinful, God would not have rewarded Job, Abraham, and Solomon with great wealth. God, however, may not bless you with great wealth if it will lead you to covet.

God will always provide for you. If you seek first God's kingdom (which includes tithing and giving to the poor), He promises to provide for you (Matt. 6:33). He will also give back more than what you tithe: "Honor the Lord from your wealth and from the first of all your produce; so your barns will be filled with plenty and your vats will overflow with new wine." (Prov. 3:9-10). Are you willing to trust God and give to Him when times are tough?

God can also provide spiritual blessings. If you are not wealthy, you should not feel that you have missed out on His blessings. Money cannot buy happiness. When you believe in faith in Jesus, you receive the free gift of eternal life. When you walk in faith, the fruit of the Spirit, which is available to you, includes: " . . . love, joy, peace, patience, kindness, goodness, faithfulness, gentleness, self-control; against such things there is no law." (Gal. 5:22-23). Have you given thanks for the many blessings of the Spirit? If you are missing any of the fruit of the Spirit, are you seeking a closer walk with Jesus to find them?
2. A Faithful Believer Gives Thanks for God's Mercy and Grace. Gen. 13:3-4.
Abraham's altars and prayers of gratitude. Abraham's growing faith caused him to see God's grace in his undeserved blessings. Thus, he built an altar of sacrifice and gave thanks for his deliverance in Egypt by calling upon Yahweh's holy name in prayer: "3 He went on his journeys from the Negev as far as Bethel, to the place where his tent had been at the beginning, between Bethel and Ai, 4 to the place of the altar which he had made there formerly; and there Abram called on the name of the Lord." (Gen. 13:3-4). Noah previously built an altar of gratitude after God saved him and his family from the Flood (Gen. 8:20). The prior chapter records the first time that Abraham built an altar and called upon the name of the God of the Covenant, Yahweh: "Then he proceeded from there to the mountain on the east of Bethel, and pitched his tent, with Bethel on the west and Ai on the east; and there he built an altar to the LORD and called upon the name of the LORD." (Gen. 12:8). At the end of this chapter, Abraham built a third altar of thanks (Gen. 13:18). Abraham later built a fourth altar that would serve as a test of faith for whether he would agree to sacrifice his only son: "Then they came to the place of which God had told him; and Abraham built the altar there and arranged the wood, and bound his son Isaac and laid him on the altar, on top of the wood." (Gen. 22:9). Isaac later followed in his father's example by building an altar of gratitude to Yahweh (Gen. 26:25).

Abraham's altar of repentance. Abraham's altar was not just an altar of gratitude for his deliverance, it was also an altar of repentance. The drought he experienced was a test that he failed. God never called Abraham to leave the Promised Land for Egypt (Gen. 12:10). Abraham again failed in his faith when he told his wife to lie to Pharaoh and say that she was merely his sister. God had to use a judgment upon Pharaoh to protect Abraham for his own lack of faith (Gen. 12:11-20). Abraham knew that his faith had failed him. He showed his righteousness by humbly repenting the moment he returned. He then called upon God's holy name in prayer. By contrast, Lot did not build an altar to either give thanks for his deliverance or to repent for his sins. He also never called upon God's name in prayer. When your faith fails you and you repent of your sins, He is faithful to forgive you: "If we confess our sins, He is faithful and righteous to forgive us our sins and to cleanse us from all unrighteousness." (1 Jo. 1:9). Do you have any hidden sins that you need to repent of?

Abraham was righteous because of his faith, not his works. God recorded both Abraham's sins and his repentance to show what made him righteous before God. It was his faith and not his works: "What then shall we say that Abraham, our forefather according to the flesh, has found? 2 For if Abraham was justified by works, he has something to boast about, but not before God. 3 For what does the Scripture say? 'Abraham believed God, and it was credited to him as righteousness.'" (Ro. 4:1-3). If you trust God to forgive your sins when you repent and then turn back to Him, you can also be celebrated for your faith in heaven.

Make your life a living thank-offering and call upon the Lord's holy name in prayer. God later told the Jews after He delivered them to worship Him: "And He said, 'Certainly I will be with you, and this shall be the sign to you that it is I who have sent you: when you have brought the people out of Egypt, you shall worship God at this mountain."' (Ex. 3:12; Acts 7:7). Like Abraham and the Jews, God has also delivered you so that you could give thanks for your deliverance and worship His holy name: "To You I shall offer a sacrifice of thanksgiving, and call upon the name of the LORD." (Ps. 116:17). "Offer to God a sacrifice of thanksgiving and pay your vows to the Most High;" (Ps. 50:14; 61:8). Today, instead of building an altar for an animal sacrifice, you are called upon to offer your life as a living sacrifice to God: "Therefore I urge you, brethren, by the mercies of God, to present your bodies a living and holy sacrifice, acceptable to God, which is your spiritual service of worship." (Ro. 12:1). This can also include "spiritual sacrifices" motivated by gratitude: "you also, as living stones, are being built up as a spiritual house for a holy priesthood, to offer up spiritual sacrifices acceptable to God through Jesus Christ." (1 Pet. 2:5). This also includes a "sacrifice of praise": "Through Him then, let us continually offer up a sacrifice of praise to God, that is, the fruit of lips that give thanks to His name." (Heb. 13:15). Is your life a living sacrifice for Him? Like Abraham, do you call upon God's holy name in prayer?
3. A Faithful Believer Seeks Peace Over Worldly Possessions. Gen. 13:5-9.
Abraham's gift of God's lands and blessings to Lot. As a friend of Abraham, God was faithful to also bless Lot: "And I will bless those who bless you . .." (Gen. 12:3). Yet, Lot was not on a walk with God. Thus, he allowed his herdsmen to come into conflict with Abraham's herdsmen. Although Abraham could have expelled Lot as the elder in the family, he instead gave Lot first choice in selecting half of the land that God gave to Abraham alone. At a time when the land was still filled with Canaanites, Abraham also acted in faith in giving lands that were still physically occupied by others: "5 Now Lot, who went with Abram, also had flocks and herds and tents. 6 And the land could not sustain them while dwelling together, for their possessions were so great that they were not able to remain together. 7 And there was strife between the herdsmen of Abram's livestock and the herdsmen of Lot's livestock. Now the Canaanite and the Perizzite were dwelling then in the land. 8 So Abram said to Lot, 'Please let there be no strife between you and me, nor between my herdsmen and your herdsmen, for we are brothers. 9 Is not the whole land before you? Please separate from me; if to the left, then I will go to the right; or if to the right, then I will go to the left.'" (Gen. 13:5-9). This same conflict later played out between the descendants of Esau and Jacob: "For their property had become too great for them to live together, and the land where they sojourned could not sustain them because of their livestock." (Gen. 36:7). Abraham shows that it is more important to seek peace over possessions. You must also place the needs of those weaker in their faith before yours.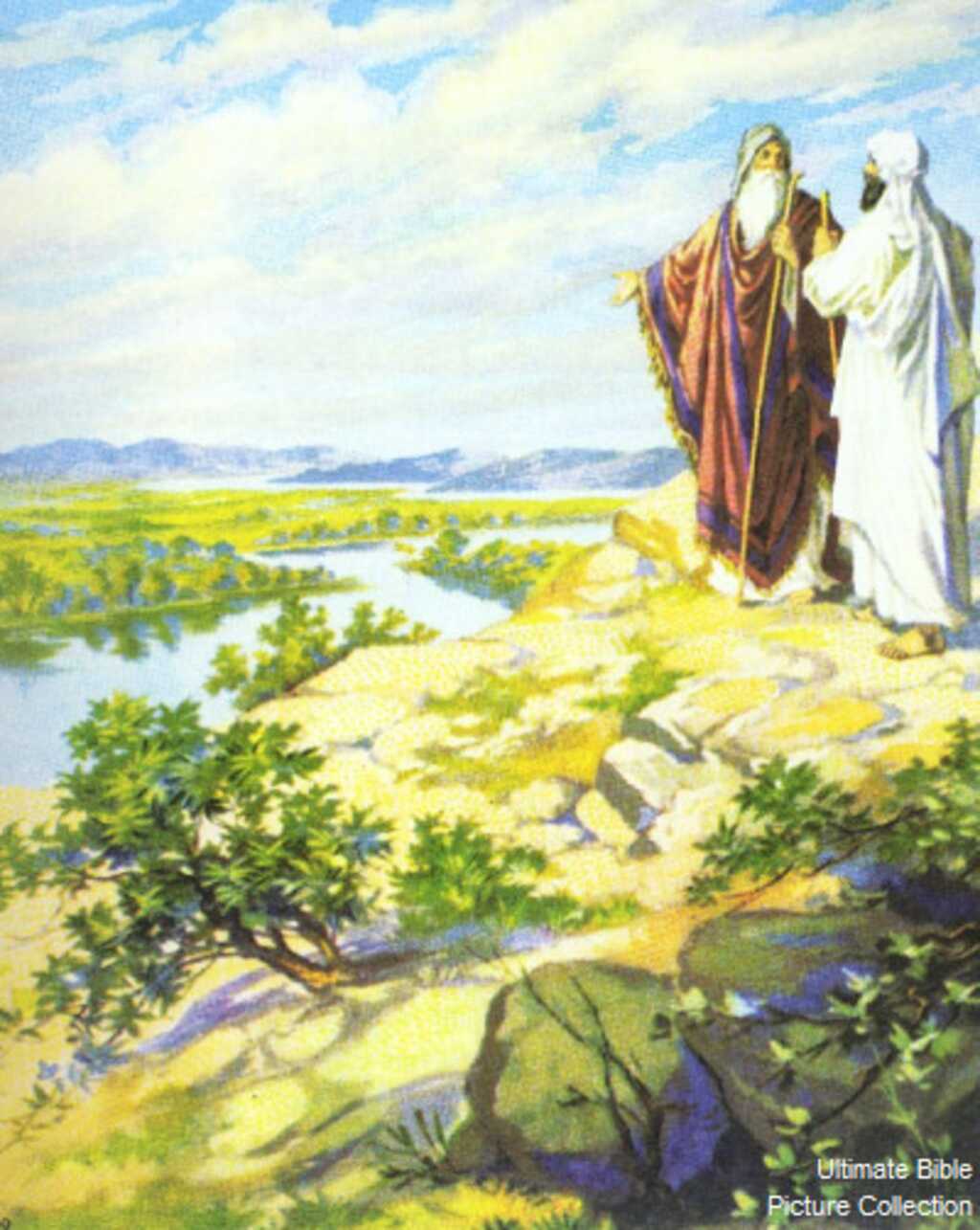 Abraham offers Lot part of the Promised Land
Avoid strife and be at peace with others. Abraham was Lot's uncle. Yet, he claimed: "we are brothers." (Gen. 13:8). Like Abraham, consider yourself equal to your brothers and sisters in Christ, even if you have greater power, wealth or seniority. God praises those who pursue peace and unity with their brothers and sisters in faith: "Behold, how good and how pleasant it is for brothers to dwell together in unity!" (Ps. 133:1(b)). "The beginning of strife is like letting out water, so abandon the quarrel before it breaks out." (Prov. 17:14). "Keeping away from strife is an honor for a man, . . ." (Prov. 20:3). "If possible, so far as it depends on you, be at peace with all men." (Ro. 12:18). "So then we pursue the things which make for peace and the building up of one another." (Ro. 14:19). When others hurt you or try to take things belonging to you, do you seek peace or retribution and conflict?

Put the needs of your brothers and sisters before your needs. Like Abraham, you also walk in faith when you put the needs of others before yourself: "Let no one seek his own good, but that of his neighbor." (1 Cor. 10:24). "Do nothing from selfishness or empty conceit, but with humility of mind regard one another as more important than yourselves; do not merely look out for your own personal interests, but also for the interests of others." (Phil. 2:3-4). "If anyone wants to sue you and take your shirt, let him have your coat also." (Matt. 5:40). Jesus also put the needs of others before Himself.
4. A Faithful Believer is Guided by the Spirit, Not the Lusts of the Eyes. Gen. 13:10-13.
Lot's selection of lands based upon sight and lust. Blessed with the unearned right to pick any land that he wanted, Lot failed to seek God's guidance in his selection. Instead, he chose both a land and a city to dwell in based upon what seemed pleasing to his eyes: "10 Lot lifted up his eyes and saw all the valley of the Jordan, that it was well watered everywhere—this was before the Lord destroyed Sodom and Gomorrah—like the garden of the Lord, like the land of Egypt as you go to Zoar. 11 So Lot chose for himself all the valley of the Jordan, and Lot journeyed eastward. Thus they separated from each other. 12 Abram settled in the land of Canaan, while Lot settled in the cities of the valley, and moved his tents as far as Sodom. 13 Now the men of Sodom were wicked exceedingly and sinners against the Lord." (Gen. 13:10-13). Peter would later refer to Lot as being a "righteous man." (2 Pet. 2:7-8). But he received this title only through God's grace. Lot had the faith to follow after Abraham. Yet, like Eve in the Garden of Eden, his decisions thereafter were guided by what looked pleasing to his eyes. He later selected Sodom as his home, a place under God's judgment (Gen. 19:24-5; Is. 3:9). Like many people today, he was drawn to what is evil. Being guided by his flesh, Lot would later suffer greatly. His wife would die near Sodom. His daughters would later seduce him into incestuous unions. He also lost the possessions that were so important to him. His life is a warning to all believers. This "is the first mention of wealth in the Bible. What a difference between the riches of Abram and the riches of Lot! They both had great wealth, but Lot's wealth possessed him. Abram had great possessions, but they did not possess him." (David Guzik on Genesis 13).
Lot Selects Sodom Based Upon the Lusts of His Eyes
Sin will find you out when you allow yourself to be guided by your flesh. God warns you not to walk by sight: "for we walk by faith, not by sight—" (2 Cor. 5:7). He also warns you to control what you fill your eyes with (Matt. 5:28). Like Lot, your sins will eventually ensnare you when you walk according to what seems pleasing to your eyes or your flesh: "But if you will not do so, behold, you have sinned against the LORD, and be sure your sin will find you out." (Nu. 32:23). "His own iniquities will capture the wicked, and he will be held with the cords of his sin." (Prov. 5:22). "For evils beyond number have surrounded me; my iniquities have overtaken me, so that I am not able to see; they are more numerous than the hairs of my head, and my heart has failed me." (Ps. 40:7). If your eyes control your decisions, you will eventually become enslaved to lust, greed, envy and the other sins of the flesh: "Do you not know that when you present yourselves to someone as slaves for obedience, you are slaves of the one whom you obey, either of sin resulting in death, or of obedience resulting in righteousness?" (Ro. 6:16; Gal. 4:7-9). In the end, you must choose between the Spirit and the flesh: "No one can serve two masters; for either he will hate the one and love the other, or he will be devoted to one and despise the other." (Matt. 6:24). If you choose the flesh, you are at war with the Spirit, "[T]he mind set on the flesh is hostile toward God . . . and those who are in the flesh cannot please God." (Ro. 8:7-8). God further says that only "fools mock at sin . . ." (Prov. 14:9). If you ignore the risks of following after the things of the flesh, God will eventually hand you over to addiction: "For this reason God gave them over to degrading passions . . " (Ro. 1:26). Between your flesh and the Spirit, who is controlling the everyday decisions in your life?

The love of wealth or money can cause sorrow. Lot coveted the wealth that he had. He also coveted the idea of building even more wealth in Jordan. This idolatry drew him away from God: "For the love of money is a root of all sorts of evil, and some by longing for it have wandered away from the faith and pierced themselves with many griefs." (1 Tim. 6:10). "He who profits illicitly troubles his own house . . ." (Prov. 15:27). Does your wealth or the desire to have more wealth control your decisions or your desires?

Any decision made without faith can be a sin. Any decision made without God can be disastrous to the person: "There is a way which seems right to a man, but its end is the way of death." (Prov. 14:12). Any decision made without God can also be a sin: " . . . whatever is not from faith is sin." (Ro. 14:23). Do you regularly seek His guidance in prayer?

Protect yourself from partnerships with those trapped in idolatry. God may have separated Abraham from Lot to protect himself from falling into Lot's idolatry. Like Abraham, you are called to protect yourself by separating yourself from those who are trapped in the idols of wealth, power and the things of the flesh: "14 Do not be bound together with unbelievers; for what partnership have righteousness and lawlessness, or what fellowship has light with darkness? 15 Or what harmony has Christ with Belial, or what has a believer in common with an unbeliever? 16 Or what agreement has the temple of God with idols? For we are the temple of the living God; just as God said, 'I will dwell in them and walk among them; and I will be their God, and they shall be My people.'" (2 Cor. 6:14-16). Have you placed yourself in a circumstance where others might pull you off your walk with God?

Abraham's lost inheritance. God told Abraham to leave his entire family behind, including Lot (Gen. 12:1). Because he did not listen to God, Abraham lost part of his spiritual inheritance. From this moment, the eastern boundary of God's Promised Land was forever sealed at the edge of the Jordan River (Josh. 15:5; Nu. 34:10; Ezek. 47:18). Approximately 400 years later, the Jews became enemies of two nations that came out of Lot's descendants, the Moabites and the Ammonites (Gen. 19:36-38). When you fail to walk in faith and obedience, your actions can also cause you to forfeit part of your spiritual inheritance.

God's mercy and grace in using Abraham's mistakes. Abraham's invitation for Lot to join him in the Promised Land was a mistake. Yet, God used his mistake for the benefit of all mankind. Ruth was a Moabite and a descendant of Lot (Ruth 1:4). She married a Jew named Boaz. Their grandson was David (Ruth 4:17). Jesus later came from their line (Matt. 1:1). Thus, God used the line of Moab to bring the salvation offered through Jesus to gentiles across the world (Jo. 3:16). The lesson is that God can use even your mistakes for His glory. Thus, when you sin and repent, have the faith that He will use your evil for good.
5. A Faithful Believer Receives an Eternal Inheritance in God's Kingdom. Gen. 13:14-15.
God's "Promised Land" to Abraham. After Abraham gave up part of his inheritance to Lot, God gave what would later be defined as the "Promised Land" to Abraham's descendants: "14 The Lord said to Abram, after Lot had separated from him, 'Now lift up your eyes and look from the place where you are, northward and southward and eastward and westward; 15 for all the land which you see, I will give it to you and to your descendants forever." (Gen. 13:14-15). Because Abraham would have felt unworthy, God showed His mercy and grace by repeating the promise that He gave before Abraham fled to Egypt: "The LORD appeared to Abram and said, 'To your descendants I will give this land.'" (Gen. 12:7(a)). God later revealed that the Promised Land stretched along the fertile crescent from Canaan, through parts of Lebanon, and Syria: "On that day the LORD made a covenant with Abram, saying, 'To your descendants I have given this land, from the river of Egypt as far as the great river, the river Euphrates: the Kenite and the Kenizzite and the Kadmonite and the Hittite and the Perizzite and the Rephaim and the Amorite and the Canaanite and the Girgashite and the Jebusite."' (Gen. 15:18-21). "I will give to you and to your descendants after you, the land of your sojournings, all the land of Canaan, for an everlasting possession; and I will be their God." (Gen. 17:8). Through Joshua, God again promised lands stretching as far as the Euphrates to the Jews: '"3 Every place on which the sole of your foot treads, I have given it to you, just as I spoke to Moses. 4  From the wilderness and this Lebanon, even as far as the great river, the river Euphrates, all the land of the Hittites, and as far as the Great Sea toward the setting of the sun will be your territory.'" (Josh. 1:3-4). It was only a lack of faith that kept the Jews from seizing all of the Promised Land stretching into Syria.
God shows Abram the Promised Land
The meek shall inherit the Earth. Jesus promised: "Blessed are the gentle, for they shall inherit the earth." (Matt. 5:5; NASB). The word "gentle" is frequently translated as "meek." (KJV/NIV). The word "meek" translates not as weakness. Instead, it is defined as strength under control. Abraham did not feel the need to fight for his inheritance. Instead, he trusted God to provide for him. Because Abraham showed meekness, he inherited the Promised Land. Have you shown strength under control with others so that God can bless you?

God also blesses the generous believer. God also blessed Abraham because he was generous with his nephew: "The generous man will be prosperous, and he who waters will himself be watered." (Prov. 11:25). "Now this I say, he who sows sparingly will also reap sparingly, and he who sows bountifully will also reap bountifully." (2 Cor. 9:6). "There is one who scatters, and yet increases all the more, and there is one who withholds what is justly due, and yet it results only in want." (Prov. 11:25). "He who gives to the poor will never want, but he who shuts his eyes will have many curses." (Prov. 28:27). Have you given generously to those in need? If done with the right motives, God will bless you.

The eternal "Promised Land" given to all believers in Christ. God promised a land on Earth as the Jews' "Promised Land." By contrast, He has offered an eternal "Promised Land" to all who accept Christ in faith: "Blessed be the God and Father of our Lord Jesus Christ, who according to His great mercy has caused us to be born again to a living hope through the resurrection of Jesus Christ from the dead, to obtain an inheritance which is imperishable and undefiled and will not fade away, reserved in heaven for you," (1 Pet. 1:3-4). "In My Father's house are many dwelling places; if it were not so, I would have told you; for I go to prepare a place for you." (Jo. 14:2). "For here we do not have a lasting city, but we are seeking the city which is to come." (Heb. 13:14). "But as it is, they desire a better country, that is, a heavenly one. Therefore God is not ashamed to be called their God; for He has prepared a city for them." (Heb. 11:16). "And I saw the holy city, new Jerusalem, coming down out of heaven from God, made ready as a bride adorned for her husband." (Rev. 21:2).
6. A Faithful Believer Receives the Blessings Offered to Abraham. Gen. 13:16.
God's promise to extend Abraham's blessing to countless future descendants. For the second time, God offered to extend Abraham's blessing to include countless future descendants: "16 I will make your descendants as the dust of the earth, so that if anyone can number the dust of the earth, then your descendants can also be numbered." (Gen. 13:16). This repeated His promise before Abraham left for Egypt: "and I will bless those who bless you, and the one who curses you I will curse. And in you all the families of the earth will be blessed." (Gen. 12:3). God would later repeat this promise many times throughout Abraham's life: "As for Me, behold, My covenant is with you, and you will be the father of a multitude of nations." (Gen. 17:4). "[S]ince Abraham will surely become a great and mighty nation, and in him all the nations of the earth will be blessed?" (Gen. 18:18). "In your seed all the nations of the earth shall be blessed, because you have obeyed My voice." (Gen. 22:18). "I will multiply your descendants as the stars of heaven, and will give your descendants all these lands; and by your descendants all the nations of the earth shall be blessed;" (Gen. 26:4). "Your descendants will also be like the dust of the earth, and you will spread out to the west and to the east and to the north and to the south; and in you and in your descendants shall all the families of the earth be blessed." (Gen. 28:14; Josh. 24:3).

Christ's offer to make the Abrahamic covenant available to you as well. Jesus later fulfilled God's promise to extend these blessings to believers throughout the world: "And if you belong to Christ, then you are Abraham's descendants, heirs according to promise." (Gal. 3:29). "It is you who are the sons of the prophets and of the covenant which God made with your fathers, saying to Abraham, 'And in your seed all the families of the Earth shall be blessed.'" (Acts 3:25). "The Scripture, foreseeing that God would justify the Gentiles by faith, preached the gospel beforehand to Abraham, saying, 'All the nations will be blessed in you.'" (Gal. 3:8). "For this reason it is by faith, in order that it may be in accordance with grace, so that the promise will be guaranteed to all the descendants, not only to those who are of the Law, but also to those who are of the faith of Abraham, who is the father of us all," (Ro. 4:16). Have you given thanks for your undeserved right to share in this blessing?
7. A Faithful Believer Walks in Fellowship with God and His Gifts. Gen. 13:17-18.
Abraham's walk with God throughout the Promised Land. After receiving God's blessing, Abraham walked with Yahweh throughout the Promised Land and built a third altar to symbolize his fellowship with Yahweh: "17 Arise, walk about the land through its length and breadth; for I will give it to you. 18 Then Abram moved his tent and came and dwelt by the oaks of Mamre, which are in Hebron, and there he built an altar to the Lord." (Gen. 13:17-18). The places that Abraham traveled to symbolized his fellowship with God. The city of Mamre translates as "vision." He pursued after God's vision and not his own. The name Hebron translates as "communion." He was in communion with God because he did the Father's will and used the spiritual inheritance that God made available to him.

Walk in fellowship with God using His Spiritual gifts for His Kingdom. Like Abraham, you are also called to walk in fellowship with God. This includes using His Spiritual gifts for His Kingdom. There are seven ways to walk in fellowship with God. First, this requires that you walk by faith in Christ and not by sight: "for we walk by faith, not by sight—" (2 Cor. 5:7; Col. 2:6; Gal. 5:16). Second, this requires that you trust the Lord with all your heart as opposed to leaning upon your own understanding: "Trust in the Lord with all your heart and do not lean on your own understanding" (Prov. 3:5). Third, this requires that you walk in obedience as God commands you (Dt. 5:33; Zech. 3:7; Job 22:21). Fourth, this requires that you read the Word and pray regularly so that the Holy Spirit may be a lamp to your feet and guide your path: "Your word is a lamp to my feet and a light to my path" (Ps. 119:105; Jo. 14:26). Fifth, this requires that you walk with purity as a "living sacrifice" and a "new creation" for Him (Ro. 12:1-2; Ps. 119:133; Jam. 4:8; Ro. 13:13; 2 Cor. 5:17). Sixth, this requires that you perform the "good works" of love, unity, kindness, justice, mercy, and encouragement that God has prepared in advance for you (Eph. 2:10; 1 Jo. 4:8; Micah 6:8; Amos 3:3). Finally, when your walk fails you, you must repent of your sins so that He may cleanse you for His further use: "If we confess our sins, He is faithful and righteous to forgive us our sins and to cleanse us from all unrighteousness" (1 Jo. 1:9). Ask in prayer if there is any area where you are not walking in fellowship with Him.
---