Genesis 18: Lessons Regarding a Person of Faith from Jesus' Encounter with Abraham
Introduction. God had just promised for the fourth time to make Abraham a mighty nation. He also had just repeated His promise that his heir would come through Sarah, not her servant Hagar. Abraham finally believed. He then agreed to circumcise himself and his men as a sign of the Covenant. But Sarah did not yet believe it. While Abraham rested from his circumcision, Jesus appeared to him in a pre-incarnate form. Jesus came and showed Sarah where her faith was still lacking. He then revealed His need to judge Sodom and Gomorrah so that Abraham would use his new faith to pray as an intercessor for them. From this account, God reveals seven signs of a person who believes in faith in Jesus. These include: (1) fellowship; (2) service; (3) giving; (4) belief; (5) repentance; (6) responsiveness; and (7) intercessory prayer.
First, when Abraham saw three strangers passing by (one of who was a pre-incarnate Jesus), he "ran" in his weakened state to entertain his guests. From this, God reveals that a person of faith does not delay in seeking fellowship with Jesus. Second, Abraham offered to serve his guests by submitting to them and washing their feet. From this, God reveals that a person of faith seeks to submit and serve Jesus. Third, Abraham also gave his guests his finest food. From this, God reveals that a person of faith gives the best of his time, talent and treasure. Fourth, Sarah failed to believe in God's promise of a pregnancy at age 90. From this, God reveals that a person of faith believes in His Word and His promises. Fifth, Sarah compounded her sin of unbelief by lying when Jesus confronted her. From this, God reveals that a person of faith repents of his or her sins. Sixth, Jesus then revealed the purpose of His visit was to judge Sodom and Gomorrah. Before doing so, He reminded Abraham for the sixth time of His promise to make a great nation out of Abraham. He did this because faith grows when you hear the Word. From this, God reveals that you can see your faith grow and respond to Him when you read or hear the Word in faith. Finally, Abraham used his new faith to plead as an intercessor for the people of Sodom and Gomorrah. From this God reveals that a person of faith prays as an intercessor for others.
1. Fellowship: A Person of Faith Seeks Fellowship with Jesus. Gen. 18:1:-3.
Abraham's request for fellowship with the pre-incarnate Jesus and His angels. After Abraham circumcised himself and all the men of his household, Jesus appeared to him in a pre-incarnate form. Abraham then pleaded for Jesus' fellowship: "1 Now the Lord appeared to him by the oaks of Mamre, while he was sitting at the tent door in the heat of the day. 2 When he lifted up his eyes and looked, behold, three men were standing opposite him; and when he saw them, he ran from the tent door to meet them and bowed himself to the earth, 3 and said, 'My Lord, if now I have found favor in Your sight, please do not pass Your servant by." (Gen. 18:1-3). Abraham could not have seen God the Father in human form and lived (Ex. 33:20). No one has ever seen Him (Jo. 1:18; 6:46; 1 Jo. 4:12). The Jews therefore believe that Abraham merely met with angels. Many Christians, however, believe that this was one of the many pre-incarnate appearances of Jesus Christ in the Old Testament. Jacob wrestled with Him before receiving His blessings (Gen. 32:22-31). Moses also met Him as the I AM who later gave Him the Ten Commandments (Ex. 3:14; Jo. 8:58). Joshua met Him as the "captain of the host of the LORD." (Josh. 5:13-15). Gideon also met Him when He appeared in angelic form (Jdgs. 6:11-27). All Scripture was written about Jesus so that you can find a relationship with Him (Lk. 24:44; Ro. 15:4).

Jesus also wants you to desire His fellowship. Like Abraham, you too are called to seek fellowship with Jesus: "God is faithful, through whom you were called into fellowship with His Son, Jesus Christ our Lord." (1 Cor. 1:9). Christ also offered to believers that they could enjoy spiritual intimacy with Him, symbolized by dining together with Him: "'Behold, I stand at the door and knock; if anyone hears My voice and opens the door, I will come in to him and will dine with him, and he with Me." (Rev. 3:20). Christ offered this so that you could find both fellowship and peace through Him (Jo. 16:33). Without His fellowship, your peace will be only temporary and easily broken (Eph. 2:13-15; Ro. 5:1). When you are in fellowship with Him, He offers the "peace that surpasses all understanding." (Phil 4:7). Sadly, many believers have been led to believe that being saved is the end all be all of being a Christian. But it is only the first step in a person's walk with Christ. If you want fellowship with Him, you must accept His knock on the door of your heart. Are you opening your heart to Christ to allow Him to keep you in full fellowship and to give you peace?

Don't delay in seeking fellowship. Even though Abraham was recovering in pain from his circumcision with no pain killers, "he ran from the tent door to meet" Jesus (Gen. 18:2). Are you letting distractions in your life cause you to delay in running to Jesus?
2. Service: A Person of Faith Seeks to Submit to Jesus and Serve Him. Gen. 18:4-5.
Abraham's offer to serve and entertain Jesus and His angels. After Jesus and his angels agreed to Abraham's request that they stay, he pleaded with them for the opportunity to serve them by washing their feet and serving them food: "4 Please let a little water be brought and wash your feet, and rest yourselves under the tree; 5 and I will bring a piece of bread, that you may refresh yourselves; after that you may go on, since you have visited your servant.' And they said, 'So do, as you have said.'" (Gen. 18:4-5). Hundreds of years later, Gideon rushed to serve Jesus during a similar pre-incarnate encounter: '"Please do not depart from here, until I come back to You, and bring out my offering and lay it before You.' And He [Jesus] said, 'I will remain until you return.'" (Jdgs. 6:18). God confirms a matter through two or more witnesses (2 Cor. 13:1; Matt. 18:16; Dt. 17:6). God provides these examples to confirm that He also desires that you seek to serve Him out of devotion, not obligation.
Lucas van Leyden 1494 – 1533 (Abraham and the Three Angels) (1513)
The love of Jesus brings the desire to do good, walk with Him, and serve Him. Out of love, you should desire to serve Jesus with all your heart and soul: "Now, Israel, what does the Lord your God require from you, but to fear the Lord your God, to walk in all His ways and love Him, and to serve the Lord your God with all your heart and with all your soul," (Dt. 10:12). Again, when God wants to confirm a matter, He repeats it. This command also appears in the Shema or call to worship: "Hear, O Israel! The Lord is our God, the Lord is one! You shall love the Lord your God with all your heart and with all your soul and with all your might." (Dt. 6:4-5). This is also what Jesus called the "greatest commandment" under the Law: "Teacher, which is the great commandment in the Law?" And He said to him, "You shall love the Lord your God with all your heart, and with all your soul, and with all your mind.' This is the great and foremost commandment." (Matt. 22:36-38). If you love Jesus, you will want to walk in all His ways, not your own. If you seek Him with all your heart and soul, He promises that you will find Him: "But from there you will seek the LORD your God, and you will find Him if you search for Him with all your heart and all your soul." (Dt. 4:29; 11:13). If you feel that Jesus is distant in your life, are you seeking to serve Him with all your heart and soul? If Jesus were to rate the intensity of your service and love for Him on a scale of 1 to 10, what number would you expect to receive?

If you love Jesus, show it by helping the poor and the disadvantaged. You were created for "good works." (Eph. 2:10). This includes compassion and charity for those who are less fortunate: "One who is gracious to a poor man lends to the Lord, and He will repay him for his good deed." (Prov. 19:17; Dt. 15:11; Matt. 5:42). "The King will answer and say to them, 'Truly I say to you, to the extent that you did it to one of these brothers of Mine, even the least of them, you did it to Me.'" (Matt. 25:40, 35). Conversely, Jesus warns: '"Truly I say to you, to the extent that you did not do it to one of the least of these, you did not do it to Me.'" (Matt. 25:45). "He who oppresses the poor taunts his Maker, but he who is gracious to the needy honors Him." (Prov. 14:31). "But whoever has the world's goods, and sees his brother in need and closes his heart against him, how does the love of God abide in him?" (1 John 3:17). "He who shuts his ear to the cry of the poor will also cry himself and not be answered." (Prov. 21:13). If you are not giving to the poor or your brothers or sisters in Christ who are in need, how much love and gratitude can you say you have for Jesus?

Show hospitality to strangers. Abraham showed hospitality to the Lord and the two angels who accompanied Him by giving them the best he had to offer. "Do not neglect to show hospitality to strangers, for by this some have entertained angels without knowing it." (Heb. 13:1). This can include those trapped in prisons, illnesses, or addictions. "Remember the prisoners, as though in prison with them, and those who are ill-treated, since you yourselves also are in the body." (Heb. 13:23; Matt. 25:31-46). When strangers need help, do you rush to help them and refresh them the way Abraham did to Jesus and His angels? Have you ever visited a person in jail? Have you ever gone to comfort a sick person who wasn't a friend or relative? How does your hospitality to others compare with that of Abraham?

Submit to one another. Abraham also showed hospitality to the Lord and the two angels by washing their feet. This was an act of submission for the needs of strangers. In that time period, a person's feet were dirty and disgusting from walking without protective footwear. To clean a person's dirty feet symbolized the host's submission to the needs of the guest. When Jesus came in human form, many of those who were grateful for being cleansed of diseases or sins offered their submission to Him by washing His feet: "Turning toward the woman, He said to Simon, 'Do you see this woman? I entered your house; you gave Me no water for My feet, but she has wet My feet with her tears and wiped them with her hair.'" (Lk. 7:44; Jo. 13:5). Jesus revealed that believers should also submit to one another in service the same way believers should submit to Him: "If I then, the Lord and the Teacher, washed your feet, you also ought to wash one another's feet." (Jo. 13:14). "having a reputation for good works; and if she has brought up children, if she has shown hospitality to strangers, if she has washed the saints' feet, if she has assisted those in distress, and if she has devoted herself to every good work." (1 Tim. 5:10). Do you submit to the needs of others?
3. Giving: A Person of Faith Seeks to Give their Best to Jesus. Gen. 18:6-8.
Abraham's gift of his finest meal to Jesus and His angels. After washing Jesus' feet and His angels' feet, Abraham gave his finest things to feed them: "6 So Abraham hurried into the tent to Sarah, and said, 'Quickly, prepare three measures of fine flour, knead it and make bread cakes.' 7 Abraham also ran to the herd, and took a tender and choice calf and gave it to the servant, and he hurried to prepare it. 8 He took curds and milk and the calf which he had prepared, and placed it before them; and he was standing by them under the tree as they ate." (Gen. 18:6-8). During Gideon's encounter with the pre-incarnate Jesus, he also gave his finest foods: "Then Gideon went in and prepared a young goat and unleavened bread from an ephah of flour; he put the meat in a basket and the broth in a pot, and brought them out to him under the oak and presented them." (Jdgs. 6:19). But Jesus did not always eat the food He was offered. During a similar encounter with Samson's father Manoah, Jesus refused to eat the food that Manoah offered: "The angel of the LORD said to Manoah, 'Though you detain me, I will not eat your food, but if you prepare a burnt offering, then offer it to the LORD.' For Manoah did not know that he was the angel of the LORD." (Jdgs. 13:16). Some Jews interpret these conflicting verses to believe that the angels merely pretended to eat the food that Abraham offered. But Jesus was able to eat food in His resurrected body (Lk. 24:41-3). A better explanation is that He only dines with a person who is in fellowship with Him (Rev. 3:20). Jesus was in fellowship with Abraham and (for a brief time) with Gideon. Yet, He never was in fellowship with Manoah. Manoah lived at a time when all did what was right in their own eyes instead of following after God (Jdgs. 21:25; 17:6). If you want true fellowship, you must seek His will, not your own.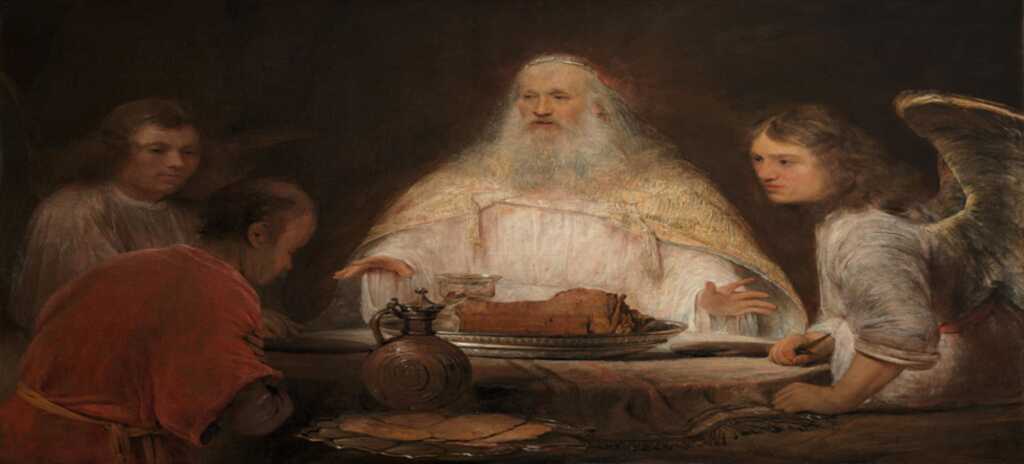 Arent de Gelder 1645 – 1727 (God and the Angels visit Abraham) (1680-1685)
Give Jesus your best time, talent, and treasure. Abraham offered Jesus cakes made of "fine flour." (Gen. 18:6). The priests were also told to use only "fine flour" for their offerings (Lev. 2:1, 7; Nu. 7:13, 19, 25, 31, 37, 43, 49, 55, 61, 67, 73, 79). To become fine, however, the flour must be "crushed." When you submit, the Holy Spirit will also crush and purify your will so that you will do Jesus' will and not your own (John 6:34). Without fully submitting your life, the Holy Spirit cannot fully come upon you (2 Cor. 4:8). The fine flour also meant that the offering involved only the best ingredients. Like Abraham, the priests also offered their best animals when they began their service as priests (Lev. 9:2-3). This was a costly sacrifice from the person's most valuable belongings. Are you giving Jesus the best of your time, talent, and treasure?

Curds and milk. Abraham offered Jesus cooked meat with "curds and milk" (Gen. 18:8). This is meat and a type of cheese. This may mean little to the average Christian. But it contradicts the Jewish notion that it is somehow against God's Kosher laws to eat meat with cheese. Devoted Jews will not even eat their meat if cheese is served on the same plate. In the Torah, God advised three times: "You are not to boil a young goat in the milk of its mother." (34:26(b); Ex. 23:19(b); Dt. 14:21). Most orthodox Jews interpret these verses to prohibit serving animal meat with cheese on the same plate. Yet, this interpretation is incorrect. In Canaan, if one wished to gain favor with a deity, he or she would slay a young goat in milk and present it to the deity. The lesson is not to follow the practices of the world while worshiping God. Are you mixing the things of the world in your worship of God?
4. Belief: A Person of Faith Believes in God's Promises. Gen. 18:9-14.
Sarah's failure to believe in Jesus' promise of a pregnancy. Despite God's many promises to Abraham and his transformation of Sarah, she continued to doubt the promise of her pregnancy: "9 Then they said to him, 'Where is Sarah your wife?' And he said, 'There, in the tent.' 10 He said, 'I will surely return to you at this time next year; and behold, Sarah your wife will have a son.' And Sarah was listening at the tent door, which was behind him. 11 Now Abraham and Sarah were old, advanced in age; Sarah was past childbearing. 12 Sarah laughed to herself, saying, 'After I have become old, shall I have pleasure, my lord being old also?' 13 And the Lord said to Abraham, 'Why did Sarah laugh, saying, 'Shall I indeed bear a child, when I am so old?' 14 Is anything too difficult for the Lord? At the appointed time I will return to you, at this time next year, and Sarah will have a son.'" (Gen. 18:9-14). Sarah should not have doubted God's promises. Shortly before Abraham was circumcised, He made this exact same promise: "I will bless her, and indeed I will give you a son by her. Then I will bless her, and she shall be a mother of nations; kings of peoples will come from her." (Gen. 17:16). When Abraham protested and asked that God bless Ishmael, God repeated His promise that Sarah would give birth, and His Covenant would be with her son: "But God said, 'No, but Sarah your wife will bear you a son, and you shall call his name Isaac; and I will establish My covenant with him for an everlasting covenant for his descendants after him." (Gen. 17:19). God then told Abraham that Sarah would give birth the following year: "But My covenant I will establish with Isaac, whom Sarah will bear to you at this season next year." (Gen. 17:21). Thus, by Jewish tradition, this entire incident took place while Abraham was recovering under a tree from his circumcision. The Jews further believe that God's promise of Isaac's birth at the "appointed time" correlated with Passover. Thus, Sarah accepted her name change, watched her husband undergo his painful circumcision and still rejected God's promises of her pregnancy, even after Jesus appeared and repeated it again. God rebuked her because you cannot please Him when you fail to believe in His Word: "And without faith it is impossible to please Him, for he who comes to God must believe that He is and that He is a rewarder of those who seek Him." (Heb. 11:6).
Sara laughing at the promise of the three angels
God sees you for the faith you will one day have, even if you lack it now. It might be tempting to judge Sarah as a failure because she failed to believe in the multiple promises of her future pregnancy. Yet, God saw her based upon the future faith that she would develop, not her prior failures: "By faith even Sarah herself received the ability to conceive, even beyond the proper time of life, since she considered Him faithful who had promised." (Heb. 11:11). Jesus is "the author and perfecter of faith . . ." (Heb. 12:2). Jesus likewise saw Peter as the man of faith that he would become, not the failure he was while Jesus was with him. Do you see yourself based upon your prior failures of your faith? Likewise, do you judge others based upon the prior failures of their faith? In either case, this is Satan speaking in your life.

God is faithful even when you are not. God later showed that He was faithful to keep His promises, even though Sarah was undeserving of His blessings: "So Sarah conceived and bore a son to Abraham in his old age, at the appointed time of which God had spoken to him." (Gen. 21:2). Do you trust in God's promises even when you feel unworthy?

God is sovereign over all. Paul quoted from God's promise of Sarah's pregnancy to prove that His Word is true, and He is sovereign: "But it is not as though the word of God has failed . . . "For this is the word of promise: 'At this time I will come, and Sarah shall have a son.'" (Ro. 9:6(a); 9:9). "and being fully assured that what God had promised, He was also able to perform." (Ro. 4:21). "Ah Lord GOD! Behold, You have made the heavens and the earth by Your great power and by Your outstretched arm! Nothing is too difficult for You," (Jer. 32:17). "All the inhabitants of the earth are accounted as nothing, but He does according to His will in the host of heaven and among the inhabitants of earth; and no one can ward off His hand or say to Him, 'What have You done?'" (Dan. 4:35). When you suffer loss, do you trust that He is in control, and that all is happening for good? (Ro. 8:28).

All things are possible with God. Paul also stressed that Sarah's womb was dead before she miraculously conceived: "Without becoming weak in faith he contemplated his own body, now as good as dead since he was about a hundred years old, and the deadness of Sarah's womb;" (Ro. 4:19). The message is that all things are possible with God: "And looking at them Jesus said to them, 'With people this is impossible, but with God all things are possible.'" (Matt. 19:26; Mk. 10:27). "For nothing will be impossible with God." (Lk. 1:37). "I know that You can do all things, and that no purpose of Yours can be thwarted." (Job 42:2). If you are in need or lacking, do you trust in faith that God can do anything?
5. Repentance: A Person of Faith Repents of their Sins. Gen. 18:15.
Sarah's failure to repent of her sin. Sarah compounded her sin of disbelief by lying and failing to repent when confronted: "15 Sarah denied it however, saying, 'I did not laugh'; for she was afraid. And He said, 'No, but you did laugh.'" (Gen. 18:15). Again, it is tempting to judge Sarah as being unworthy of becoming the mother of Israel based upon her disbelief and her lie. But God revealed her failure of faith to stress that no one is worthy in His eyes.

All have fallen short and are in need of repentance. Abraham was in no position to judge Sarah. He also had just laughed at the promise of Sarah's pregnancy: "17 Then Abraham fell on his face and laughed, and said in his heart, 'Will a child be born to a man one hundred years old? And will Sarah, who is ninety years old, bear a child?'" (Gen. 17:17). Like Abraham and Sarah, all have lied and fallen short in God's eyes: "for all have sinned and fall short of the glory of God," (Ro. 3:23). "Indeed, there is not a righteous man on earth who continually does good and who never sins." (Ecc. 7:20). "And do not enter into judgment with Your servant, for in Your sight no man living is righteous." (Ps. 143:2). "Can mankind be just before God? Can a man be pure before his Maker?" (Job 4:17). Instead of condemning the sinners around you, He wants you to confess your own sin because you are no better. When you confess your sins in faith, He will cleanse you: "If we confess our sins, He is faithful and righteous to forgive us our sins and to cleanse us from all unrighteousness." (1 Jo. 1:9). Have you confessed all of your hidden sins to Jesus?

You must also wash your sins through the Word. Even after you are saved through faith in Christ, you must still wash yourselves of the sins of your daily life (Lev. 1:9). At the Last Supper, Peter initially refused Jesus' offer to wash his feet. Jesus responded by rebuking him: "If I do not wash you, you have no part with Me." (Jo. 13:8). Peter then asked Jesus to wash his feet, hands, and head. Jesus responded: "He who has bathed needs only to wash his feet." (Jo. 13:10). In other words, Christ died once for your sins, but your flesh gets dirty each day and must still be washed. To cleanse your daily sins, you must read God's Word to expose your sins: "so that He might sanctify her, having cleansed her by the washing of water with the word . . ." (Eph. 5:26). You must then confess the sins that the Spirit reveals to you. The Word will then guide you (Ps. 119:105). Are you regularly reading the Word to cleanse yourself? Are you confessing the sins that the Spirit reveals through the Word?
6. Responsiveness: A Person of Faith Hears God's Word and Responds. Gen. 18:16-19.
Jesus' repetition of His prior promises to make Abraham a great nation. Jesus had a purpose for His visit. He revealed to Abraham His need to judge Sodom and Gomorrah. He then repeated His prior promise to make Abraham a great nation as a test to see what Abraham would do with his privileged position: "16 Then the men rose up from there, and looked down toward Sodom; and Abraham was walking with them to send them off. 17 The Lord said, 'Shall I hide from Abraham what I am about to do, 18 since Abraham will surely become a great and mighty nation, and in him all the nations of the earth will be blessed? 19 For I have chosen him, so that he may command his children and his household after him to keep the way of the Lord by doing righteousness and justice, so that the Lord may bring upon Abraham what He has spoken about him.'" (Gen. 18:16-19). On seven occasions, God repeated His promise to extend Abraham's blessing to include countless future descendants: (1) Gen. 12:3(b); (2) 13:16; (3) 15:5; (4) 16:10; (5) 17:4-5; (6) 18:18; (7) 22:18. He repeated His promise here to boost Abraham's faith. He knew that He could grow Abraham's faith by repeating the Word to him: "So faith comes from hearing, and hearing by the word of Christ." (Ro. 10:17). "So then, does He who provides you with the Spirit and works miracles among you, do it by the works of the Law, or by hearing with faith?" (Gal. 3:5). Abraham's faith needed to be boosted for the task that God was about to give him.

Read the Word to grow your faith as well. Your faith is like a muscle in your body. If you read and hear the Word, your faith will grow. By contrast, if you fail to read or hear the Word, your faith will atrophy like a muscle that you never use. To boost your faith so that God can use you like Abraham to help others, do you read the Word on a regular basis?
7. Petition: A Person of Faith Prays as an Intercessor for Others. Gen. 18:20-33.
Abraham's petition for mercy for the fallen people of Sodom and Gomorrah. After being reminded of his great privilege as the future father of many nations, Abraham showed that he was a man of faith by pleading with Jesus for mercy for the people of Sodom and Gomorrah: "20 And the Lord said, 'The outcry of Sodom and Gomorrah is indeed great, and their sin is exceedingly grave. 21 I will go down now, and see if they have done entirely according to its outcry, which has come to Me; and if not, I will know.' 22 Then the men turned away from there and went toward Sodom, while Abraham was still standing before the Lord. 23 Abraham came near and said, 'Will You indeed sweep away the righteous with the wicked? 24 Suppose there are fifty righteous within the city; will You indeed sweep it away and not spare the place for the sake of the fifty righteous who are in it? 25 Far be it from You to do such a thing, to slay the righteous with the wicked, so that the righteous and the wicked are treated alike. Far be it from You! Shall not the Judge of all the earth deal justly?' 26 So the Lord said, 'If I find in Sodom fifty righteous within the city, then I will spare the whole place on their account.' 27 And Abraham replied, 'Now behold, I have ventured to speak to the Lord, although I am but dust and ashes. 28 Suppose the fifty righteous are lacking five, will You destroy the whole city because of five?' And He said, "I will not destroy it if I find forty-five there.' 29 He spoke to Him yet again and said, 'Suppose forty are found there?' And He said, 'I will not do it on account of the forty.' 30 Then he said, 'Oh may the Lord not be angry, and I shall speak; suppose thirty are found there?' And He said, 'I will not do it if I find thirty there.' 31 And he said, 'Now behold, I have ventured to speak to the Lord; suppose twenty are found there?' And He said, 'I will not destroy it on account of the twenty.' 32 Then he said, 'Oh may the Lord not be angry, and I shall speak only this once; suppose ten are found there?' And He said, 'I will not destroy it on account of the ten.' 33 As soon as He had finished speaking to Abraham the Lord departed, and Abraham returned to his place." (Gen. 18:20-33). God later made a similar promise to Jeremiah that He would pardon Jerusalem from judgment if he could find one righteous man: "Roam to and fro through the streets of Jerusalem, and look now and take note. And seek in her open squares, if you can find a man, if there is one who does justice, who seeks truth, then I will pardon her." (Jer. 5:1). God gives these examples so that you will pray for others.

Be an intercessory for all people like Abraham. Abraham showed that he was a man of faith because his prayers were not limited to his nephew Lot. Instead, he pleaded for all the people of Sodom and Gomorrah. By contrast, Jonah fled from God's instructions to give a warning to the people of Nineveh because he wanted them to perish. God does not want any to perish (2 Pet. 3:9). For this reason, He sent Jesus so that all the "world might be saved through Him." (Jo. 3:17). He wants you to help bring others to repentance through intercessory prayer. He spared the Jewish nation in response to Moses' prayers after they made the golden calf (Ex. 32:11-14). He again spared the Jews in response to Moses' prayer after they rebelled at the edge of the Promised Land (Nu. 14:18-22). He also spared the Jews in response to the prayers of Moses and Aaron after Korah, 250 men of renown, and then the 14,700 rebelled (Nu. 16:21-24). As another example, one of Christ's last seven statements before His death was the following prayer: "Father forgive them for they know not what they do." (Luke 23:34). He did this as an example for you to follow. He sits on the throne interceding for you and others (Ro. 8:26-27, 34; Heb. 7:25). As part of His royal priesthood (1 Pet. 2:5), He has also given you the power of intercessory prayer to pray when you pray in faith in His name. His death tore from top to bottom the "veil" of the Holy of Holies that separated you from God the Father (Matt 27:51; Mark 15:38). According to the Midrash, the High Priest had to wear a rope to be pulled out in case he died inside the Holy of Holies as a result of failing to properly follow God's procedures. By contrast, you can now enter the Holy of Holies with "boldness" to pray for others (Heb. 10:19-22). The apostles also urged the believers to pray as intercessors for others: "First of all, then, I urge that entreaties and prayers, petitions and thanksgivings, be made on behalf of all men," (1 Tim. 2:1; Eph. 6:18). Are you using the power that Christ gave you to pray for others, beyond your family, friends, and co-workers? How often does your church pray fasting for the sins of your nation?

The world needs your prayers now more than ever. God said that the sins of Sodom and Gomorrah were exceedingly great (Gen. 18:20). The world today is trapped in sins far worse than those of Sodom and Gomorrah. The world could be judged at any time. " . . we know that it is the last hour." (1 Jo. 2:18). Thus, there is no time to delay in intercessory prayer. Will you pray and fast without delay for others?
Abraham intercedes for Sodom
---
The Ras Shamra tablets, Archeology and Bible History, by Joseph P. Free. pg. 105.

Gen. 18:1; Targum Pseudo-Yonatan; b. Bava Metzia 86b; b. Sotah 14a; Pirkei de Rabbi Eliezar 29.

First Fruits of Zion, Torah Club (2015) Vol. 2, Shadows of the Messiah, Vayera, p. 73-74.