Leviticus 22: Lessons for Being an Effective Priest and Leader for Jesus.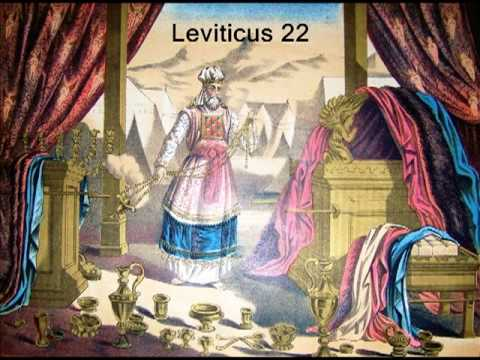 Image credit
Introduction: In Leviticus Chapter 21, God set forth rules of purity for His priests. In Chapter 22, He continues His rules for His priests for when they lead others in worship. If you are believer in Christ, you are part of His holy priesthood and bound by the lessons of this chapter: "But you are a chosen race, a royal priesthood, a holy nation, a people for God's own possession, so that you may proclaim the excellencies of Him who has called you out of darkness into His marvelous light;" (1 Pet. 2:9). Today, however, you do not make the physical sacrifices described in this chapter. Instead, you are called upon to make "spiritual sacrifices." (1 Pet. 2:5). These include making your life a "living sacrifice" for God (Ro. 12:1). In Leviticus Chapter 22, He reveals seven important lessons for you as a leader to help others to also make their lives a living sacrifice for Him.
First, to be an effective leader for God, you should not be in open rebellion against His Law. Second, also to be an effective leader for Him, cleanse your sin by confessing it. Third, to be an effective leader for Him, stay clean of sin by washing in His Word. Fourth, you should always treat the things that He gives you as holy. Fifth, a leader for God makes his or her "living sacrifice" reverent and meaningful to Him. Sixth, an effective leader for God does not delay in serving Him. Finally, an effective leader for God is obedient to both the Word and His calling.
1. An Effective Leader for God Doesn't Lead While Rebelling Against Him. Lev. 22:1-3.
A priest cannot manage God's affairs as one of His representatives while sinning. God warned the priests not to go near the holy gifts or things that the people dedicated to Him if they were "unclean" or in sin. Going near these gifts or using them while the priest was sinning would "profane" God's holy name: "1 Then the Lord spoke to Moses, saying, 2 'Tell Aaron and his sons to be careful with the holy gifts of the sons of Israel, which they dedicate to Me, so as not to profane My holy name; I am the Lord. 3 Say to them, 'If any man among all your descendants throughout your generations approaches the holy gifts which the sons of Israel dedicate to the Lord, while he has an uncleanness, that person shall be cut off from before Me; I am the Lord."' (Lev. 22:1-3). In that time, the people gave grain offerings and other sacrifices as gifts to thank God for His blessings. Today, rather than giving grain offerings, people tithe money. If a priest or minister collects money from the congregation while he is sinning, the leader's hypocrisy may "profane" God's holy name by causing people not to give in the future. These lessons still have relevance today. Christians are, by definition, part of His holy priesthood (1 Peter 2:5, 9; Rev. 1:6). You are also Christ's ambassador: "Therefore, we are ambassadors for Christ, as though God were making an appeal through us; we beg you on behalf of Christ, be reconciled to God." (2 Cor. 5:20). When you fail to control your desire to sin, you misrepresent what it means to be a believer. You are also the only Bible that some people will ever read. Do any of your actions reflect poorly upon God? Are you giving people reasons to want to be like you?
2. An Effective Leader for God Tries to Cleanse His or Her Sin Before Leading. Lev. 22:4-5.
Cleanse yourself of your most private internal sins. Sin is inevitable. If you say that you are without sin the truth is not within you (1 Jo. 1:8). In this chapter, God uses symbols to reveal a priest's sins. For example, a priest could became unclean by leprosy, which is a symbol of a sin that has become visible for all to see. Jesus' first recorded miracle was healing a leper (Matt. 8:2-3). He was symbolically showing that He has the ability to cure the disease of sin. God also uses the symbol of a man's emission (an extremely private thing) to symbolize unclean thoughts that are known only to the priest. A man's seed, like blood, is a symbol of life (Gen. 1:11-12; 22:17; 47:19). When a man and a women come together, they symbolize one flesh (Matt. 19:16). Yet, the seed which fell on the road was snatched up by Satan (Mk. 4:4). Only the seed falling on good soil is blessed and fruitful (Mk. 4:20). According to Jesus, is it not what goes into our flesh that defines us (Mk. 7:14b-15a). Instead, "what comes out of a man is what defies him." (Mk. 7:20). Thus, the lost male seed is a symbol of sin. With either kind of sin, the priest needed to purify himself before he could eat what God had to offer: "4 No man of the descendants of Aaron, who is a leper or who has a discharge, may eat of the holy gifts until he is clean. And if one touches anything made unclean by a corpse or if a man has a seminal emission," (Lev. 22:4). Today, these rules apply in a different form. As one of God's priests, you do not need to be "ritually pure" to enter a physical Temple because the Temple no longer exists. Instead, after Jesus' death, your body became the temple where the Holy Spirit resides (1 Cor. 3:16-17). Instead of being in God's presence once a week, you are in His presence all the time. Thus, as leader for God, your mind must also be set on the Spirit and not the things of the flesh. "Because the mind set on the flesh is hostile toward God . . ." (Rom. 8:7). "and those who are in the flesh cannot please God." (Rom. 8:8). We must therefore ". . .put on the Lord Jesus Christ, and make no provision for the flesh in regard to its lusts." (Rom. 13:14; see also 1 Cor. 15:50; Rom. 8:6, 13). God cares about the most intimate private sins in your life. Before you lead, He wants you to cleanse the most intimate thoughts and deeds.

Keep your thoughts focused on things of God, not of this world. A priest could also become unclean if he touched any "creeping thing": "5 or if a man touches any teeming things by which he is made unclean, or any man by whom he is made unclean, whatever his uncleanness;" (Lev. 22:5). To understand what this means today, you must again understand the symbolism behind it. Satan was punished for his sin by being turned into a snake that slithered on the ground (Gen. 3:14). If you focus on (i.e., touch) the things that slither on the Earth, you are focused on the things of the flesh (Gal. 6:8; Rom. 7:5; 8:6). To be focused on the Spirit, God tells you to "renew your mind" every day (Ro. 12:1-2). Are you praying to God to remove ungodly desires so that you can stay focused on serving Him?

If you don't control your sin, it will spread and hurt others. A priest must act promptly to root out sin. Paul warns that "one who sows to his own flesh will from the flesh reap corruption . . " (Gal. 6:8). Thus, you are to make your body a living sacrifice free from immorality and corruption (Ro. 12:1; 1 Cor. 6:15). Like mold, yeast, or leprosy, sin spreads. If you fail to cleanse yourselves of your sin, it will spread and hurt others. Is there any small sin that you are harboring in your life because you think you can control it?
3. An Effective Leader for God Regularly Cleanses in God's Word. Lev. 22:5-9.
Wash in the Holy Word of God to stay clean. Part of renewing your mind to stay clean (Ro. 12:2) includes washing the filth of sin that you come in contact with each day. Like when you wash your hands, your mind needs to be washed as well. God can cleanse your innermost sins. He is not just the God of the Spirit, He is also "the God of the flesh." (Jer. 32:27; Jo. 17:2). Here, the priests were told to wash themselves of their uncleanness in God's holy water. The priest would then be clean after a brief time for reflection: "6 a person who touches any such shall be unclean until evening, and shall not eat of the holy gifts unless he has bathed his body in water." (Lev. 22:6). Likewise, in Isaiah, after warning that God will not hear the prayers of a sinner, God's first piece of advice was to: "Wash yourselves, make yourselves clean." (Is. 1:16). God's holy water can wash you of any iniquity or uncleanness (Ps. 51:1-3, 7). Once you are saved, you don't need to confess Jesus as your Lord and Savior with each new sin. But even a saved believer must still wash his or her daily sin. When Peter asked Jesus to wash his feet, hands, and head, Jesus responded: "He who has bathed needs only to wash his feet." (Jo. 13:10). Jesus also warned Peter that if he did not let Jesus wash him, Jesus would have no part of him (Jo. 13:8). In other words, Christ died once to cover our sins, but our flesh must still be washed. God advises that there are two things that you must do to cleanse yourself. First, you must "wash" in Christ' Word (Eph. 5:26). Second, once your sin becomes known to you, you must confess the sin "to cleanse [you] from all unrighteousness." (1 Jo. 1:9; 15:3; 1 Cor. 6:11). Are you reading the Word on a regular basis to allow God to expose your hidden sins?
Don't consume the counterfeit things of the world. Once the priest was clean, God wanted him to consume the holy food that the people provided through their offerings: "7 But when the sun sets, he will be clean, and afterward he shall eat of the holy gifts, for it is his food." The priest, however, was to avoid food that had died by natural causes or by wild animals. These animals symbolized the death that is present in the world from sin: "8 He shall not eat an animal which dies or is torn by beasts, becoming unclean by it; I am the Lord. 9 They shall therefore keep My charge, so that they will not bear sin because of it and die thereby because they profane it; I am the Lord who sanctifies them." (Lev. 22:8; 11:24-25, 27, 31, 35, 39-40). In both of these examples, the priest had to distinguish between the holy and the unholy in what he consumed. Today, the food that we consumed as priests for God is spiritual (Jo. 4:34). You can consume the Word of God, which brings life. Or, you can consume the writings of mankind, which will only cause your mind to be focused on the flesh. Are you filling your mind with the things of the Spirit? (Matt. 6:22-23).
4. An Effective Leader for God Treats the Gifts of God as Holy. Lev. 22:10-16.
Keep the gifts of God holy. God did not allow the priest to share the holy gifts of God with a laymen, a sojourner, or a hired man: "10 'No layman, however, is to eat the holy gift; a sojourner with the priest or a hired man shall not eat of the holy gift."' (Lev. 22:10). At that time, these people could not eat the 12 loaves of holy show bread that was on display in the Tabernacle. Eating the bread was a sign of being in communion with God. A person who was not part of the priesthood could not eat the bread because they were not in communion with Him. Although no Tabernacle exists today, these verses still have relevance today in two forms. First, when you eat God's communion bread, you are placing yourself into communion with Christ (Lk. 22:14-22; 1 Cor. 11:17-34). If a non-believer flippantly consumes the communion bread, he or she treats Christ's sacrifice flippantly and brings damnation upon him or herself (1 Cor. 11:29). Second, you must remember that every good and perfect thing in your life is from God: "Every good thing given and every perfect gift is from above, coming down from the Father of lights, with whom there is no variation or shifting shadow." (Jam. 1:17). Because your gifts are from God, Jesus warns that you must be careful what you do with them: "Do not give what is holy to dogs, and do not throw your pearls before swine, or they will trample them under their feet, and turn and tear you to pieces." (Matt. 7:6). This means that you are not to use the gifts that He has given you on things that are unholy. This includes, but is not limited to, drugs, drinking alcohol in excess, gambling, pornography, or other similar vices. Instead, you are to use your gifts to help others and advance His Kingdom. Are you being a good steward with your talents?

Helping those in need is a holy and appropriate use of God's gifts. One of the intended uses of the holy food was to help those in need. Examples included: (1) indentured servants or dependents in his household who were hungry and (2) a widowed or divorced sister, who would not have a family to support her: "11 But if a priest buys a slave ["an indentured servant"] as his property with his money, that one may eat of it, and those who are born in his house may eat of his food. 12 If a priest's daughter is married to a layman, she shall not eat of the offering of the gifts. 13 But if a priest's daughter becomes a widow or divorced, and has no child and returns to her father's house as in her youth, she shall eat of her father's food; but no layman shall eat of it." (Lev. 22:11-13). God allowed these people to eat the holy food because He wanted the priests (His representatives) to show compassion toward those in need. Likewise, as an act of compassion to his hungry men, David and his men ate of the priest's show-bread in the Temple (1 Sam. 21:6). Jesus explained that God desires that we show compassion to those in need: " 9 Or what man is there among you who, when his son asks for a loaf, will give him a stone? 10 Or if he asks for a fish, he will not give him a snake, will he? 11 If you then, being evil, know how to give good gifts to your children, how much more will your Father who is in heaven give what is good to those who ask Him! 12 In everything, therefore, treat people the same way you want them to treat you, for this is the Law and the Prophets." (Matt. 12:9-12). If God has blessed you with money or abilities, are you using these holy gifts to help those in need?

Be a worthy representative of God's gifts. A person who ate the holy offering unintentionally was to pay back the holy offering, along with a 20% penalty: "14 But if a man eats a holy gift unintentionally, then he shall add to it a fifth of it and shall give the holy gift to the priest. 15 They shall not profane the holy gifts of the sons of Israel which they offer to the Lord, 16 and so cause them to bear punishment for guilt by eating their holy gifts; for I am the Lord who sanctifies them." (Lev. 20:14-16). If you misuse God's gifts for our own purposes, you have committed this sin as well. Suppose, for example, you have a gift of music. But you only use this gift for yourself. You are consuming God's holy gift for an improper purpose. Likewise, if you have made a large amount of money and you have given nothing to God, you have also committed this sin. In the second example, God says that you have "robbed" Him. (Mal. 3:8). Thankfully, Christ has paid the price for these sins through His guilt offering (Is. 53:10-11). Yet, His act should not motivate you to continue to sin. Instead, out of gratitude, you should make your life a "living sacrifice" for Him (Rom. 12:1). Out of gratitude, are you giving the best of your time, talent, and treasure back to God?
5. An Effective Leader for God Makes His or Her Living Sacrifice Meaningful. Lev. 22:17-28.
A cheap life offering is not a real "sacrifice." In describing the type of sacrifice that a person could make, God required that the sacrificial offering be a male "without defect", the most expensive and valuable kind of sacrifice that a person could offer: "17 Then the Lord spoke to Moses, saying, 18 'Speak to Aaron and to his sons and to all the sons of Israel and say to them, 'Any man of the house of Israel or of the aliens in Israel who presents his offering, whether it is any of their votive or any of their freewill offerings, which they present to the Lord for a burnt offering 19 for you to be accepted it must be a male without defect from the cattle, the sheep, or the goats. 20 Whatever has a defect, you shall not offer, for it will not be accepted for you. 21 When a man offers a sacrifice of peace offerings to the Lord to fulfill a special vow or for a freewill offering, of the herd or of the flock, it must be perfect to be accepted; there shall be no defect in it. 22 Those that are blind or fractured or maimed or having a running sore or eczema or scabs, you shall not offer to the Lord, nor make of them an offering by fire on the altar to the Lord. 23 In respect to an ox or a lamb which has an overgrown or stunted member, you may present it for a freewill offering, but for a vow it will not be accepted."' (Lev. 22:17-23; 1:3; Ex. 12:5). In the book of Malachi, God condemned the faithless priests of that time who offered blind, lame, and sick animals as sacrifices (Mal. 1:8, 13-14). These animals were worth the least out of any animal in the flock. If someone offered the cheapest animal in the flock, that person was not making a real "sacrifice". If someone offered the cheapest animal in their flock while they held back the best for themselves, that person was in effect saying that he or she really did not care that much about the forgiveness that God had given. When offering a cheap sacrifice, the person was really making the sacrifice as a public show for others. Thankfully, Jesus fulfilled the need for these animal sacrifices. He became the sacrifice without defect (1 Pet. 1:18-19; Jo. 18:13, 24). "Do not think that I came to abolish the law or the Prophets, I did not come to abolish but to fulfill." (Matt. 5:17). If you are thankful that you don't need to offer your car or your most expensive belongings every time you sin against God, how are you showing it?
Image credit
Recognize that Jesus offers you "new life". In that time, an animal could not be sacrificed if it was unable to reproduce: "24 Also anything with its testicles bruised or crushed or torn or cut, you shall not offer to the Lord, or sacrifice in your land, 25 nor shall you accept any such from the hand of a foreigner for offering as the food of your God; for their corruption is in them, they have a defect, they shall not be accepted for you.'" (Lev. 22:24-25). Reproduction represents new life. If you have accepted Jesus as your Lord and Savior, He has turned you into a "new creation." (2 Cor. 5:17). As a new creation of the Spirit, you can reproduce by planting the seed of the Gospel to bring new life to others. Are you fulfilling Jesus' Great Commission to spread His Word to others? (Matt. 28:16-20).

Jesus also offers you a "new beginning" from your old life. In that time, an animal could not be offered any sooner than the eighth day as a sacrifice: "26 Then the Lord spoke to Moses, saying, 27 "When an ox or a sheep or a goat is born, it shall remain seven days with its mother, and from the eighth day on it shall be accepted as a sacrifice of an offering by fire to the Lord." (Lev. 22:26-28; Ex. 22:30). Seven is a number of completeness in the Bible. The ordination of the priest lasted seven days (Lev. 8:35-36). The priest's duties began on the eighth day (Lev. 9:1). The eighth day was also the day when a child was to be circumcised as being part of the first Covenant with God (Lev. 12:3). Christ also rose from the dead on a Sunday, the first day of the week (Matt. 28:1). The number eight in the Bible symbolizes a "new beginning." As part of being a "new creation," you have also been given a "new beginning" in Christ from your old life and the things of the flesh (2 Cor. 5:17). The enemy can no longer condemn you for any of your past sins (Ro. 6:6). Are you letting any of your old sins hold you back from service? Likewise, are you using someone's old sins to put them down and discourage them from serving as a leader for God?

In gratitude, only offer the best from your life to God. As stated above, you can show your appreciation for Christ's ultimate sacrifice on your behalf by making your life a living sacrifice to God (Rom. 12:1-2). Yet, recognizing Jesus' sacrifice and showing appreciation for it are two different things. Matthew Henry once wrote in his commentary on verse 22:27: "If our devotions are ignorant, and cold, and trifling, and full of distractions, we offer the blind, and the lame and the sick for sacrifice; but cursed be the deceiver that does so. . ." Today, instead of animals, we have both money and time as part of our life offering. With your money, do you wait to see if you can cover your monthly bills before giving to God? With your time, do you spend your free time meditating on His Word? Do you look for ways to serve Him? Alternatively, are you only giving Him your Sunday mornings?

God will meet you where you are when you honor Him. Although God was not willing to allow a deformed animal to atone for a sin or to fulfill a vow, such an animal could be given as a "freewill" or thank offering (Lev. 22:23). Our righteous acts are but rags to the Lord (Isa. 64:6). Thus, anything that we offer is less than perfect in God's eyes. Yet, if we've given to the Lord in our own imperfect way, these verses give us hope that He will accept our offering out of love. If, for example, you sing off key but with a heart full of gratitude, your offering will still be accepted by God. Likewise, if you only have little money to offer from the money you need for your living expenses, God will appreciate your sacrifice more than someone who gives a lot, but only out of their surplus (Mk. 12:41-44).

Don't give up your ability to make future sacrifices for God. God prohibited the Jews from offering a mother and her baby animal as a sacrifice on the same day: "28 But, whether it is an ox or a sheep, you shall not kill both it and its young in one day." (Lev. 22:28; Dt. 22:6). On one level, God wants to prohibit even the appearance of evil in sacrifices. Indeed, God also prohibited a cow from being boiled in its mother's milk, which was a Canaanite practice in that time (Ex. 23:19; 34:26; Dt. 14:21). But these verses have another meaning today. If someone sacrificed a mother cow and a calf on the same day (and assuming he had no other animals in the herd), he or she would not be able to offer sacrifices in the future. God wants you to make yourself a life offering to Him (Rom. 12:1-2). He further wants you to make a life-long offering, not just a one-time offering. Unless you have a special calling in your life, He most likely does not want you to stop working, give away all that you have and live on the streets. Jesus only gave this instruction to a rich man whose coveting for wealth kept him from Him (Matt. 19:21; Lk. 12:33). God most likely wants you to work and be productive throughout your life so that you can make continual sacrifices to Him and for the poor. If you can work, are you working hard for His glory and giving to those who cannot work?

Help others to give their best to God. A priest is someone who helps others draw closer to God. These rules about sacrifices are repeated here because the priests were His leaders who helped other people to make proper sacrifices. As stated above, you are part of God's holy priesthood (1 Pet. 2:5, 9; Rev. 1:6). As one of His priests, you are also tasked with the duty to help others prepare for service to Him (Eph. 4:11-13). This, however, requires that you know your brothers and sisters in Christ well enough to know what kind of life sacrifices they are making for God. This also suggests that you should know the motives behind your brother or sister's acts of charity or tithing. Are you mentoring someone else to be a leader? Likewise, are you opening your own life for someone else to examine your heart?
6. An Effective Leader for God Does Not Delay in Serving Him. Lev. 22:29-30.
Don't delay in responding to God's calling. When a person made a peace offering to God out of gratitude, God commanded the priest to eat the offering that same day. He could leave none of it until morning: "29 When you sacrifice a sacrifice of thanksgiving to the Lord, you shall sacrifice it so that you may be accepted. 30 It shall be eaten on the same day, you shall leave none of it until morning; I am the Lord.'" (Lev. 22:29-30). This was also the third time that God gave this commandment in the book of Leviticus (Lev. 19:6-8; 7:14-15). We again are included in this commandment because we are His holy priesthood (1 Pet. 2:5, 9; Rev. 1:6). The peace offering that we eat is Christ's body, through whom our peace is possible: "For He Himself is our peace, who made both groups into one and broke down the barrier of the dividing wall," (Eph. 2:14). By eating in communion with Jesus, we signal that we are one with Him. Jesus' food was to do God the Father's will: "Jesus said to them, 'My food is to do the will of Him who sent Me and to accomplish His work.'" (Jo. 4:34). We are also to find our spiritual food and contentment through doing His will. We must also never delay in serving Him: "But Jesus said to him, "Follow Me, and allow the dead to bury their own dead." (Matt. 8:22). Have you heard His calling and delayed your response?
7. An Effective Leader for God is Also Obedient. Lev. 22:31-33.
Obey God's Law and His calling out of love. Finally, God concludes by warning his priests to follow His commandment. A leader for God cannot lead people to the Lord if they are in rebellion or openly sinning: "31 So you shall keep My commandments, and do them; I am the Lord. 32 "You shall not profane My holy name, but I will be sanctified among the sons of Israel; I am the Lord who sanctifies you, 33 who brought you out from the land of Egypt, to be your God; I am the Lord." (Lev. 22:31-33). Obedience was the guiding principle for keeping the First Covenant (e.g., Dt. 4:1; 6:3-4; 9:1; 20:3). Obedience is also important for God's leaders because they are His representatives on Earth. Today, believers are no longer "under the Law" in the sense that they must comply with it to be saved (Gal. 5:18; Ro. 7:6; 8:3). By "fulfilling" the Law, Christ freed us from the impossible task of trying to obtain salvation through the Law (Matt. 5:17). Yet, Jesus also says that, if you love Him, you will keep His commandments: "If you love Me, you will keep My commandments." (Jo. 14:15). "He who has My commandments and keeps them is the one who loves Me; and he who loves Me will be loved by My Father, and I will love him and will disclose Myself to him." (Jo. 14:21; 15:10; 1 Jo. 5:3; 2 Jo. 1:6). His commandments were the Ten Commandments. He was the great "I AM" who gave the Ten Commandments to Moses (Jo. 8:58; Ex. 3:14). His "disciples" were the "disciplined ones" in keeping His commandments. As bondservants or freed slaves, they were obedient out of love, not obligation. Whether you follow the Ten Commandments out of love instead of obligation is also a test for whether you really know God: "By this we know that we have come to know Him, if we keep His commandments." (1 John 2:3). "Circumcision is nothing, and uncircumcision is nothing, but what matters is the keeping of the commandments of God." (1 Cor. 7:19). Although God wants your obedience, it is meaningless if it is done out of compulsion, ritual, or habit. Is there any area in your life where you are rebelling against Him?